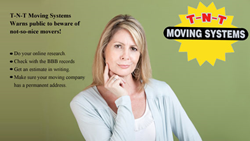 Out number one tip is to get that moving estimate in writing! - Tom Tulowiecki, T-N-T Moving Systems
Charlotte, NC (PRWEB) July 15, 2014
Are moving scams a real concern or just hype? The 2014 moving season is well under way with most Americans moving in the months of June, July, and August. Finding a reputable moving company can be a top concern. T-N-T Moving Systems of Charlotte, NC warns their potential customers about moving scams.
"When we started this company, moving scams were not as widespread," explains Todd Koepke, co-owner of T-N-T Moving Systems, "But nowadays they are becoming common and the burden of research is on the customer."
In 2013, according to their website, the Better Business Bureau received "more than 9,300 complaints against movers in the U.S." The complaints ranged from broken items upon delivery to more severe moving scams. Moving scams include quoting a low price at first, then raising the price on delivery or never delivering the goods at all. Some movers will even hold belongings hostage until the customer pays them more money.
What is the best way to avoid a moving scam? T-N-T Moving Systems has some suggestions.
"We like to tell people to get estimates in writing," says Tom Tulowiecki, "And go with a company that has been in business for years." A written estimate can help resolve a dispute in court. Another way to avoid a scam is to do research on the company. Websites like Angie's list, Moving Scams, and the Better Business Bureau are a great place to start.
The moving company's own website can reveal a lot about the company as well. Reputable movers usually have a physical location with an accurate address. Make sure it's not just two guys and truck taking calls on their cell phone. The more you know about the company before the move the better. Once moving day arrive and the movers show up, it is too late to change companies.
"For a long distance move like cross country be sure to check with the U.S. department of Transportation," says Koepke, "Every long distance truck is required by law to be registered with the Federal Highway Administration." The US DOT keeps records on moving companies and inspects their trucks and drivers. At http://www.fmcsa.dot.gov, a customer can check out the moving companies' record before signing a contract. The FMSCA report shows complaints, unsafe driving violations, controlled substance and alcohol violations, driver's fitness, and vehicle maintenance information.
"Even if people in Charlotte choose a different moving company, we want them to be safe," says Tulowiecki, "Moving scams give our whole industry a bad name. People are vulnerable when they are moving and that's why we consider it a privilege to be trusted with our customers' personal belongings."
T-N-T Moving Systems has been in operation since 1995. They are connected to the Charlotte area and are the official movers of the Carolina Panthers. They do local and long distance moves and free quotes at http://www.tntmovingsystems.com. They serve customers in Huntersville, Matthews, Pineville, Gastonia, Hickory, Statesville, and the surrounding area.