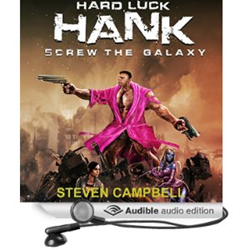 My kind of Superhero!
(PRWEB) July 20, 2014
SciFi Publishing is pleased to announce its newest scifi audiobook, "Hard Luck Hank: Screw the Galaxy", written by bestselling author Steven Campbell; now available on Amazon, Audible and iTunes. http://amzn.to/1oMaEVt
About Hard Luck Hank: Screw the Galaxy
Hank is a thug. He knows he's a thug. He has no problem with that realization. In his view the galaxy has given him a gift: a mutation that allows him to withstand great deals of physical trauma. He puts his abilities to the best use possible and that isn't by being a scientist.
Besides, the space station Belvaille doesn't need scientists. It is not, generally, a thinking person's locale. It is the remotest habitation in the entire Colmarian Confederation. There is literally no reason to be there. Unless you are a criminal.
Because of its location, Belvaille is populated with nothing but crooks. Every day is a series of power struggles between the crime bosses.
Hank is an intrinsic part of this community as a premier gang negotiator. Not because he is eloquent or brilliant or an expert combatant, but because if you shoot him in the face he keeps on talking.
Hank believes he has it pretty good until a beautiful and mysterious blue woman enters his life with a compelling job offer. Hank and Belvaille, so long out of public scrutiny, suddenly find themselves at the epicenter of the galaxy with a lot of very unwelcome attention.
What People are Saying
Hard Luck Hank: Screw the Galaxy tops the Amazon Best Sellers Rank Top 10 for Cyberpunk and Aliens genres.
5.0 out of 5 stars "You'll love the humor, constant action, brilliant twists!"
5.0 out of 5 stars "My kind of Superhero!"
5.0 out of 5 stars "Excellent Sci-Fi Story!"
5.0 out of 5 stars "Outstanding!"
5.0 out of 5 stars "Really fun space adventure!"
About the Author
Steven Campbell is the top selling author of Hard Luck Hank: Screw the Galaxy and his subsequent novel, Hard Luck Hank: Basketful of Crap. Fans can follow him on Twitter at @ @dukerustfield or connect with him at http://www.belvaille.com
About Sci-Fi Publishing
Sci-Fi Publishing enables authors to bring their work to life, creating powerful audiobooks for Sci-Fi fans. We partner with authors from audiobook production to marketing so they can continue to focus on their passion, creating new and amazing worlds.
For more information about us and to discover other great scifi audiobooks, visit us at either http://www.scifi-publishing.com or http://www.scifi-audiobooks.com.