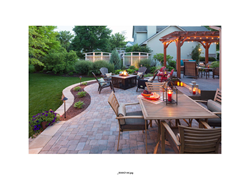 'Even in a tiny backyard, you can have your cake and eat it too,' said Southview Design's Karen Filloon. 'You can have both a fire and a water feature, but you may have to downsize or find creative places to put them.'
Minneapolis, MN (PRWEB) July 14, 2014
A tiny backyard on a typical city lot can still offer plenty of potential for pleasure for Twin Cities area homeowners, according to Southview Design.
"Backyards are meant to be used, no matter what size they are. But with a tiny backyard, the most critical step is coming up with an innovative design that makes the most out of the space," said Karen Filloon, a landscape designer with Southview Design.
Even in a tiny backyard, you can have your cake and eat it too. For example, it's possible to have both a fire and a water feature in a small backyard, but you may have to downsize or find creative places to put them. Filloon said Southview Design has put small water features on walls and in container gardens. A space-saving place for a fire feature is in the center of a dining table.
The size and arrangement of furniture is especially important in tiny backyards, according to Filloon. "Arrange the furniture to create smaller areas for dining, grilling and entertaining," she said. "Above all, avoid making the mistake of buying oversized furniture that can make the space seem smaller." She also said you can gain extra seating by putting benches with pillows against a wall or fence. And you can separate different spaces with container gardens in different sizes where you can grow flowers and vegetables.
While Southview Design designs and builds more elaborate backyard projects all over the Twin Cities, they also work on hundreds of small backyard projects every year. Many homeowners simply want to make their backyard more user friendly, while some have more specific projects in mind.
A great example of how a tiny backyard makeover can make a huge difference is in this South Minneapolis backyard. Designed for a fun-loving, extroverted couple, this backyard "does everything but call the neighbors up and say, 'Let's have a party!'" Filloon said.
Southview Design expanded the patio space to allow for a dining area, grill and chimenea, transforming this small backyard into an outdoor space that's perfect for party animals. They also redesigned the garden bed lines, added a privacy fence and put a few pops of color in the garden.
"Sometimes it's the little things in life that mean the most," Filloon said.
For photos and landscaping ideas for tiny backyards, visit http://www.SouthviewDesign.com.