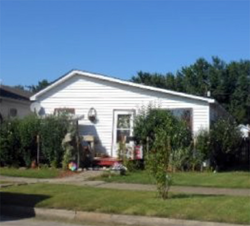 Chicago, IL (PRWEB) July 14, 2014
The foreclosure crisis is not over for millions of homeowners, and American Homeowner Preservation ("AHP") continues to use impact investing as a means to help borrowers with predatory adjustable-rate mortgages (ARMs). ARMs are being weaved back into the fabric of the nation's housing market after incurring much of the blame for the foreclosure crisis, this time with a stricter set of guidelines for borrowers to qualify. Yet before the housing market crashed, one of the most common mistakes borrowers made was buying into the pitch that subprime ARMs were a good fit for their situation.
Following the death of his father, Eric moved into his home at the age of 22. Three years later, Eric refinanced the home into an ARM. "It was a bad deal, they got me on an adjustable rate," Eric said. "I was young-- I didn't know what I was doing. I wanted to keep it, but when the payments started going up, I couldn't afford them."
Once Eric's payments became unmanageable, he attempted to reach a modification with his lender, but found that they were unwilling to work with him. He began receiving notices of foreclosure, but when he contacted his original lender, Eric discovered his loan had been sold. The foreclosure notices stopped and Eric went years without hearing from a lender.
"After so long, you don't know what to do because there's nobody to talk to, there's nobody to call because you don't know who has it," Eric said. "You can't afford to get caught back up—there's no way. So you're kind of lost in the shuffle."
AHP eventually purchased Eric's mortgage, and with the loan in default, Eric was still at risk of foreclosure. AHP, however, was willing to work with Eric and offered him several options, including a loan modification. AHP was able to settle Eric's several years of delinquent payments for $2,000 and lower his monthly payments from $481.37 to $340. Additionally, Eric now has the option to settle his previous unpaid principal balance of $57,261.22 for $32,300.
AHP is able suppress the spread of foreclosure by using real estate crowdfunding to purchase pools of distressed mortgages from banks and lenders at significant discounts. Through resolutions such as loan modifications, settlement options, and deeds in lieu of foreclosure, AHP ensures that borrowers are not financially destroyed by foreclosure and receive sustainable solutions.
American Homeowner Preservation empowers accredited investors to purchase equity in pools of distressed mortgages to earn returns of 9-12%. Our goal is to help secure your future by securing someone else's. For further information or inquiries please visit http://www.ahpinvest.com or call 800-555-1055.