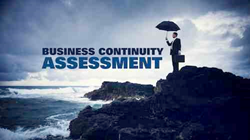 Free Business Continuity Assessment Online Tool and Resource Guide
Oakville, Ontario (PRWEB) August 08, 2014
Jeff Collier, CEO of Stage2Data, announced today that his company has launched a simple, easy to use Business Continuity Assessment tool that is free to any business that needs to set a Disaster Recovery Plan in action.
Collier addressed the launch event crowd saying, "Business Continuity planning is top of mind. With flooding rivers in Western Canada, extreme storms across Canada and the USA and of course, with unexpected disaster arriving in the form of human error and theft, no business is immune from events that interrupt business and put business assets, including data, at risk. Now you can take the first step in Disaster Recovery Planning free by using our simple Business Continuity Assessment online tool."
Jacques Swanepoel, CTO of Stage2Data outlined the Business Continuity Assessment Tool stating, "This tool covers all Business Continuity Issues. It is not singularly focused on Data and Disaster Recovery. We wanted to give business owners a template that gives them a good overall picture of their disaster readiness."
During the launch event, the online Business Continuity Assessment tool was well received. Business owners rated it highly for its inclusiveness and ease of use. Business owners liked that it was an online tool, and that they received a concise printable report to use with Disaster Readiness teams. The Business Continuity Resource Guide that is included in the free tool also received top marks from the crowd.
To access the Business Continuity Assessment Online Tool, click here or contact Stage2Data at 1.855.430.0866.
About Stage2Data:
Stage2Data is Canada's Premier Cloud Solution Provider and offers cloud, private cloud, on premise solutions, and hosting. The company is 100% Canadian owned and operated.