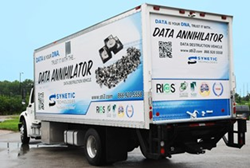 Especially in heavily regulated industries, on-site destruction of hard drives and other assets is the only safe and secure option...
Kansas City, MO (PRWEB) July 14, 2014
Synetic Technologies, an IT asset disposition (ITAD) and IT asset management (ITAM) firm, announces the arrival of its first data destruction vehicle. The self-contained mobile shredder, known as The Data Annihilator, is the latest service Synetic offers to help protect a company's greatest asset – its data.
With compliance regulations constantly evolving and more breaches resulting in legal settlements running in the millions, companies are seeking tailored solutions to their specific IT asset disposition needs.
"Many companies have IT assets that contain proprietary information. Internal policy prohibits these assets from leaving the premises before the proprietary data they contain is destroyed. Other confidential information stored on these assets is protected by Acts and regulations, and as recent court cases prove, companies are being held accountable for protecting that information from breaches. Especially in heavily regulated industries, on-site destruction of hard drives and other assets is the only safe and secure option they have," explains Gary Agness, Vice President, Synetic Technologies.
The Data Annihilator is a self-contained mobile hard drive shredder. There is a lab in the front of the truck where hard drives and associated media are loaded onto a conveyor belt, which carries the assets to the shredder. The shredder's four powerful, rotating cylinders grind the pieces until they are small enough to fit through a screen into a collection bin. The materials are rendered breach-proof in accordance with the National Association for Information Destruction (NAID) and then recycled according to strict R2/RIOS™ policies that protect your data and the environment.
Clients can witness the destruction from inside the truck or via a tablet in the comfort of their offices. It eliminates any possibility of a data breach since the IT assets never leave the customer's facility. The Annihilator solves the challenges companies across the banking, finance, healthcare and government industries face when protecting their data from falling into the wrong hands, resulting in the subsequent legal, financial and PR consequences of a breach.
ABOUT SYNETIC TECHNOLOGIES
Synetic Technologies is one of the highest certified IT asset disposal firms in the United States with a simple mission: make technology hardware asset disposition services as easy, accessible and efficient as possible. Synetic delivers customer intensive services, liability protection and out-of-box centric solutions across all of its clients' platforms and organizational departments. The company accomplishes this by building great relationships and confidence through unmatched service and value add propositions under certified practices in data security and responsible recycling: NAID and R2/RIOS™.