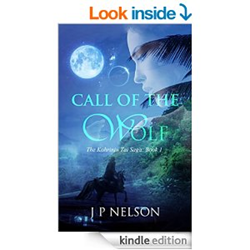 New York, NY (PRWEB) July 14, 2014
"Call of the Wolf," the first novel of the Kohrinju Tai Saga, a new science fiction/fantasy series by author JP Nelson, is now available at http://www.amazon.com/dp/B00IM3UBL0.
Telling the story of an of its unlikely hero, a half-breed elf former slave called Timber Wolf, Nelson expertly weaves a story driven by character development, captivating visuals, fast moving action, thought-provoking mystery and intricate paradox against a background of richly detailed history and culture. "Call of the Wolf" takes the reader into a thrilling, mystical world of elves, leprechauns, dragons, magic and more.
"I'm a big fan of the science fiction and fantasy genres and, in my own writing, I've been inspired by 'Lord of the Rings' and 'Dragon Riders of Pern' series to 'Planet of the Apes' and 'Six Million Dollar Man,' as well as the epic novels of Louis L'Amour," said Nelson. "While science fantasy is my medium, the message of 'Call of the Wolf,' is that it isn't the talent or tools we are born with, or the events and altercations we experience, it is the choices we make and actions we take that make us who we are. And one person can make a difference in this world."
To request a review copy of "Call of the Wolf," please contact Eva Dilman at eva.dilman(at)expertsubjects(dot)com.
About ExpertSubjects.com
ExpertSubjects.com is a trusted Internet resource for self-publishing authors and writers. The site offers a wide variety of self-publishing services such as editing, book cover and interior design, eBook formatting and distribution, marketing, website design and traditional publishing. For more information on self-publishing through ExpertSubjects, please visit http://www.expertsubjects.com.