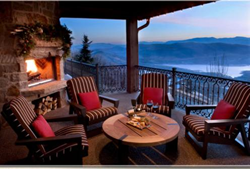 For the White Party, we'll host stations from Italy, Spain, France, Australia, and the United States around this stunning home!
Dear Valley, UT (PRWEB) July 12, 2014
PUREfourhundred, in association with Casa Nova, is hosting an exclusive wine tasting and gastronomy event during Park City's BIG Wine and Food Weekend, Saturday, July 12th, 2014 at 7pm. The location is Deer Crest Private Gated Community, Deer Valley, 10399 N. Summit View Dr, Park City, UT 84060. $125/ticket includes wine tastings, delicious appetizers, music, and the chance to preview over a million dollars in DIAMONDS (courtesy of Landmark Jewelers) and Maserati cars in the driveway! White Attire Required.
Casa Nova, known worldwide as Deer Valley's premier luxury chalet, has received awards and accolades from top publications like Forbes, Life Magazine, Luxury Travel Magazine, Best of Utah, and others. Voted the best Ski Resort in the Country, its 13,000 square feet of luxurious perfection has hosted A-List celebrities and is the go-to premier vacation rental for Sundance Film Festival. Casa Nova is the perfect location to experience the best wine, food and luxury Park City has to offer.
PUREfourhundred's WHITE PARTY is Park City's most anticipated summer wine event! PUREfourhundred has partnered with Fox School of Wine and Culinary Wine Experiences to provide an unforgettable wine tasting experience. Wine expert Kirsten Fox, has chosen wines from all over the world for patrons to savor and enjoy. There will also be a bar featuring Utah's own Epic beer and a specialty cocktail made with Vida Tequila. Executive Chef, Seth Adams from Riverhorse on Main, has created a menu of appetizers that compliment each of the wine tasting stations. To top off the evening, music and dancing will feature our favorite DJ Randolph.
"White wine is the perfect drink to pair with summer's light summer foods," says Fox. "The crisp mouthwatering nature of the grapes used, along with the customary chill to the wines gives you a refreshing drink that readies your mouth for each bite of food."
"For the White Party, we'll host stations from Italy, Spain, France, Australia, and the United States around this stunning home! Wine experts will guide guests at each location as they taste the wines," notes Fox.
All of the wines will be presented as 'blind tastings' meaning that the guests will not know what they are tasting until they guess the wine or the label is revealed. "This sensory experience for guests, along with the wine experts helping to guide them, gives them a level of discovery and tasting not available in a normal setting," says Fox.
"There was a time in European history when peasants made their own wine, which almost exclusively was red," explains Fox. Only the royals and wealthy were able to afford white wine. So the fact that we will only be tasting and learning about white wine seams very appropriate for this LUXURY event."
PUREfourhundred exclusively hosts their events in the most high-end luxury homes that are listed for sale. Casa Nova is currently on the market for $11 million. "PUREfourhundred is a luxury brand for premier real estate, events and design. We like to showcase the ultimate in luxury at every event we host. Wine, gastronomy, grand homes and luxury are always the backdrop of everything we do. Additionally, it really puts Utah on the Map for its multi-million dollar real estate, design and high end events," states PUREfourhudred Founder, Kristina Pluta.
Event partners include Casa Nova, Landmark Jewelers, Maserati and Ferrari of Utah, Vida Tequila, People Water, Riverhorse Private Chef and Catering Services, and Epic Brewery.
About PUREfourhundred: PUREfourhundred is a luxury brand for premier real estate, events, and design. Our team is made up of real estate agents, designers, event planners, and creative types all working together to offer our clients an unmatched lifestyle.