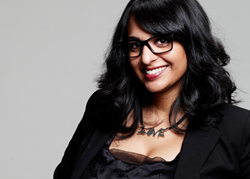 'theFashionSpot is an essential fashion industry source which is why I was drawn to this position,' stated Akhtar. 'I plan to have vibrant original content and a chic design that will please our very sophisticated and savvy readers.'
Los Angeles, CA (PRWEB) July 14, 2014
TotallyHer Media's theFashionSpot (tFS) (http://www.thefashionspot.com), the web's largest fashion-focused community and editorial site, announced today the hiring of Amina Akhtar, formerly of Vogue and Elle, as Editorial Director. In this newly created position, Amina will oversee content for theFashionSpot as well as a full staff of editors and contributors for beauty, fashion, and social media.
Amina joins theFashionSpot with over 15 years of experience in fashion media, working for some of the most prestigious fashion outlets in the market. Her most recent stint was at Vogue where she was the Digital Editions Editor managing the tablet edition including new stories, slideshows, and video. Prior to that, she was the Executive Editor for Elle.com where she oversaw all online editorial while working closely with marketing to develop custom content advertising packages. She also served as the Fashion Editor at New York Magazine where she launched and developed the online fashion section comprising The Cut, Model Manual, Shop-a-Matic and more. Under her tenure, NYMag.com's fashion section won two ASME awards.
"theFashionSpot is an essential fashion industry source which is why I was drawn to this position," stated Akhtar. "I plan to have vibrant original content and a chic design that will please our very sophisticated and savvy readers. The community on our site is like no other."
"We are increasing our investment in theFashionSpot,, starting with the editorial team and there is no one better to lead the effort than Amina," said Rebecca Schmitt, Vice President and General Manager of TotallyHer Media. "TheFashionSpot has been successful by innovating in content that's appealing to both audience and advertisers. Amina's vision will help us continue this growth trajectory with an original, behind the scenes voice that appeals to the fashion and beauty influencers at the core of our audience.
"Amina is a true leader and visionary in the premium publishing space. From launching The Cut to driving the amazing growth at Elle.com she has a track record of success most editors only dream of," said Geoff Schiller, Chief Revenue Officer of Evolve Media. "Amina's distinct point of view will be at the core of our mission to deliver elegant and impactful content solutions to brand partners."
About theFashionSpot
Originating in July 2001, theFashionSpot (http://www.theFashionSpot.com) made a name for itself as an invitation-only community of designers, stylists and fashionistas that dissected designer collections, celebrating some and skewering others. Building on the largest fashion-focused community on the web, theFashionSpot.com has grown into a respected fashion editorial site with a strong and active community element. TheFashionSpot's portfolio of sites currently reaches nearly 2.5 million unique visitors (comScore, May 2014), with close to 70,000 invitation-only members playing an active role in the site's forum. In 2012 theFashionSpot was recognized by MediaPost's OMMA Awards for website excellence in fashion and beauty. Recent brand advertisers include Lexus, Sally Hansen, Macy's, Tresemme, Anne Klein, P&G, Kraft, Coach, Revlon, and more. theFashionSpot is part of TotallyHer, an Evolve Media (http://www.evolvemediallc.com) company.
For More Information:
Whitney Ashley
Director of Marketing Communications
(310) 449-1890 Ext. 8250
Whitney.Ashley(at)evolvemediallc(dot)com
Annie Carone
Manager of Marketing Communications
(310) 449-1890 Ext. 8263
Annie.Carone(at)evolvemediallc(dot)com