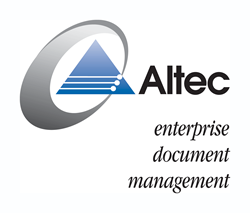 Laguna Hills, CA (PRWEB) July 15, 2014
Altec Products, Inc., a leader in enterprise document management and workflow solutions, announced today that it is a premier sponsor of the 2014 Epicor User Summits to be held in July and will have representatives in attendance. These complimentary day-long user events designed exclusively for Epicor customers will provide invaluable tools and tips, maximizing their Epicor enterprise resource planning (ERP) solution to reap even greater growth, productivity and profitability.
The 2014 Epicor User Summits span more than three weeks in July, taking place in ten cities throughout North America. The summits start in Atlanta, GA and end in Irvine, CA, visiting Dallas, TX; St. Louis, MO; Minneapolis, MN; Chicago, IL; Toronto, ON; Seattle, WA; Boston, MA and Philadelphia, PA in between. These events will unite Epicor users and experts, as well as industry thought leaders, for a unique experience that will benefit every business department: Executive, Finance, IT, Operations, Sales and Marketing. Lunch and breakfast will be provided too, offering more time to network with industry peers and specialists.
Attendees of these complimentary Epicor user events will have the opportunity to discover useful functionality and practical tips about Epicor ERP version 10 and learn inspiring stories from Epicor ERP customers. Altec's document management solution, doc-link, is fully compatible with Epicor ERP version 10 and tightly integrated to Epicor for automation of paper intensive processes including accounts payable, accounts receivable and sales order processing. Altec is also the publisher of Epicor Advanced Print Management (APM) and APM Plus for automated document delivery. The company has been working with Epicor ERP solutions for decades, and its sales engineers are expertly equipped to expand the way Epicor users make use of their document management solutions. Interested attendees will have a chance to meet with Altec sales directors at these events.
Tony Choquehuanca, Altec Sales Director for the Midwest, will attend the three Midwest events. He stresses their importance, commenting, "The user summits offer a wealth of resources and industry insights for Epicor customers. Epicor ERP solutions are already streamlined and easy to use but these one-day events are especially advantageous because they inspire creative and innovative ways to utilize the software to grow businesses."
For more information about the 2014 Epicor User Summits, to see dates and locations and/or to register for free, visit http://www.epicor.com/summits.
About Epicor Software Corporation
Epicor Software Corporation is a global leader delivering inspired business software solutions to the manufacturing, distribution, retail and services industries. The Company's headquarters are located in Austin, Texas, with offices and affiliates worldwide. For more information, visit http://www.epicor.com.
About Altec
Altec is a leading provider of Integrated Document Management (IDM) solutions to mid-market companies. For more than 25 years, Altec has provided a wide range of accounting-centric paper to paperless solutions including its flagship product, doc-link™, which enables companies to capture, archive, workflow and route structured and unstructured documents to customers, employees and vendors. Altec's comprehensive solutions include IDM, output management, MICR check disbursement and paper documents that serve more than 13,000 customers worldwide. Altec enjoys strong, collaborative partnerships with ERP solution providers like Epicor Software Corporation to provide the most comprehensive, integrated enterprise document management solutions. Altec delivers its IDM solutions through a global network of authorized partners in more than 60 countries throughout the Americas, EMEA and Asia Pacific. Visit Altec at http://www.altec-inc.com, or call April Blankenship at 1-800-997-9921.
# # #
Epicor is a trademark of Epicor Software Corporation, registered in the United States and other countries. Other trademarks referenced are the property of their respective owners. The product and service offerings depicted in this document are produced by Epicor Software Corporation.