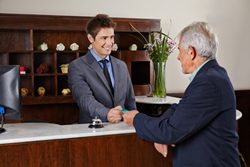 The trend has taken off in Miami
Chicago, IL (PRWEB) July 11, 2014
The Federal Savings Bank asks its readers, "do you like to stay in a fancy four-star resort hotel while the staff caters to your every whim?" Some home buyers do, and they are looking to have those same amenities in their daily life.
According to a Bloomberg release from July 2nd titled "Homebuyers Avoiding Chores Fuel U.S. Condo-Hotel Revival", many home buyers are looking to condos that have a plethora of resident services. Due to demand for such residences, developers in the U.S. said there is renewed interest among their industry to build full service condominiums, particularly in cities like Los Angeles, Miami and New York.
"I love the amenities the building will have - a restaurant that can provide room service, a concierge, maintenance, a person that can clean your place, valet parking," Rainer Viete, a real estate professional who has purchased a Florida condo that will be under construction starting in August, told Bloomberg news.
As The Federal Savings Bank has highlighted before in a July 10th release that Americans want luxury homes, and the hospitality industry is getting on board with the housing industry to offer hotels that have condos. Ian Schrager, a hotelier who is developing a luxury lodging and residential building in Miami in collaboration with Marriott International Inc. and another building in Manhattan's Lower East Side with Witkoff Group, told Bloomberg that the trend presents more value for builders, which is why the number of spaces is increasing.
What's brewing in Miami
The trend has taken off in Miami, as the Miami Herald reported on July 8th, Coconut Grove is a hot residential area in the city, is scheduled to get three new luxury towers in the near future. These buildings will be complemented by a new headquarters for Coconut Grove Bank and restaurant and retail space. The new development will be called Park Grove, and since May, 30 percent of the units have already been reserved.
Another development that is underway is 1Hotel & Homes South Beach, the project of Richard LeFrak, the billionaire chief executive officer of New York-based LeFrak Organization Inc., and investor Barry Sternlicht, Bloomberg reported. Based on current demand, LeFrak said he is already considering a similar development in Los Angeles.
"You are seeing more and more condos that are associated with a hotel brand," LeFrak said. Residents need only "make one phone call. 'Change the linens, put food in my fridge, get my car ready.' They don't have to bother with organizing a lot of things. It's a big draw."
For information about getting a low cost mortgage purchase your own luxury condo, contact the Federal Savings Bank, a veteran owned bank.