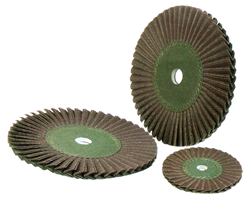 China (PRWEB) July 12, 2014
Zhengzhou, On July, 12th, iAbrasive gives a few suggestions on how to choose the right flap disc, especially some blind spots in flap disc choosing.
Flap disc is usually used in angular grinder. Owing to its good grinding ability, high efficiency, low noise and good safety, flap disc is widely applied in rust removal, paint removal, grinding of metal and non-metallic surfaces. Thus flap disc plays a significant role in metal polishing. However, there are blind spots for flap disc users when they choose what type of flap disc to purchase.
Do flap disc types matter?
Usually flap disc has two kinds of types: curved type and flat type. As its name implies, flap disc has a smooth buffed surface. Curved flap disc has an upward curved grinding surface. Judging from appearance, the difference between those two types of flap disc is conspicuous. Some people may hold the view that since all vanes in curved flap disc can touch the surface of work pieces, the cutting speed and surface effect of curved flap disc is better than that of flat flap disc.
However, the fact is that with the abrasion of vanes, some curves will appear on flat flap discs; besides, there is little difference in grinding effect between flat flap disc and curved flap disc. As a result, when purchasing flap discs, users had better to choose flap disc type based on individual preference.
Do more vanes mean better effect?
Compared with ordinary flap disc, flap disc produced by certain abrasives manufacturers have more vanes in unit area. Some people think that flap disc with more vanes is of higher density, longer life and better performance. Actually, it is the marketing tool of abrasives manufacturers. High density of vanes in flap disc means high producing cost. Whereas, with the number of vanes increasing, the angle of blade inserting is improved accordingly, which in turn enhances grinding efficiency and results in more rough surface after polishing. Considering service life of flap disc, it is true that more vanes can help flap disc last longer. But the vane number is not a decisive factor for flap disc's lifespan.
The backing pad of flap discs is often made from three kinds of materials: ordinary cotton, mixed material of polyester and cotton and pure polyester. Among them, the hardest one is the pure polyester. while ordinary cotton is the most vulnerable to abrasion. In order to expand service life of flap discs and make full use of all vanes, it is essential to choose the most suitable backing pad material in accordance with the hardness of polishing material, grinding pressure and grinding quantity. Flap disc with polyester as backing pad in low grinding pressure will lead to ore sand covered by metal debris after blunt; while flap disc with ordinary cotton backing pad in large grinding pressure would wear vanes too fast and shorten service life of flap discs.
For more information about abrasives industry, please visit: http://www.iabrasive.com/articles.