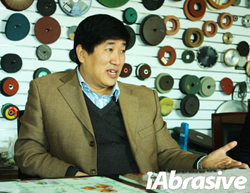 Zhengzhou, China (PRWEB) July 14, 2014
Located in Mazhai Industrial Park, Erqi District, Zhengzhou, Zhengzhou Anhua Abrasive Co., Ltd. was established in 1995. There are 200 employees working for the company. In 2009, the company output value hit 60,000,000 Yuan. Its product ranges from bonded abrasives, coated abrasives to superhard materials, including resin grinding wheel, ceramic grinding wheel, PVA sponge polishing wheel, flap disc, diamond saw blade and more than one hundred types of products, which have been sold to Japan, Korea, America, Southeast Asia, Middle East and more than thirty countries and regions. Zhengzhou Anhua Abrasive Co., Ltd. has become an emerging force in abrasives industry.
iAbrasive had an interview with Anhua in June, 2014. Anhua welcomed us with its special charm that fascinated visitors all over the world.
Tang Baojun, the general manager of Anhua, was talkative and friendly. He talked about Anhua's experience in multi aspects including quality, brand, market, service, culture, innovation, etc. We pondered deeply over his inspiring words to grasp the core factor of Anhua's success.
Bring Forth the New Through the Old
China material industry is low-end without uniformed industry standard, which leaves abrasive products at sixes and sevens. Some companies pursue for profit without considering product quality and brand management, while Anhua can't agree. Anhua has been focused on brand management since the beginning to make "Anhua" an influential brand.
A brand is not simply a symbolization of a company, its product or services. It is a reflection of a company's comprehensive power and intangible assets. After China joined in WTO, multi-national enterprises and renowned brands swarmed into China. Competition became fiercer. Therefore, protecting brands and developing brand marketing can be priorities.
Rooted in China, Looking Around the World
Product positioning has a great influence on a company's direction and scale. As a result, companies should attach great importance to this issue. At first,Anhua planned to develop foreign trade. However, when financial crisis attacked in 2008 and the market economy began to shrink, Anhua was badly impacted. Tang re-positioned the company's strategic objective and developed direction. Targeting at domestic sales, Anhua planned to do business in China, to compete for foreign brands. To achieve the goal, Anhua has been striving to be an overseas famous brand.
Quality & Integrity first
"A reliable brand means good quality and effective promotion." When it comes to how Anhua built up company brand, Tang said, "Brand is based on product quality and intangible service. Anhua provides both qualified products and after-sales service to solve problems for customers and to create added value. This is where Anhua's biggest advantages lie." Besides, promotion channels are indispensable. Anhua's sales network spreads in seventeen places to promote. The result is impressive: customers regard Ahhua as an inexpensive and comfortable brand.
Enhance Innovation & Improve Quality
Anhua is famous for its full range of products and various specifications. Customers can buy what they want anytime. However, Tang has some concerns. He doubts whether Anhua is able to focus on a type of product. In order to solve this problem, Anhua changed production mode in 2010 by focusing on resin abrasives to strengthen productive force on coated abrasives. The company invested 2,000,000 Yuan to brought in Germany advanced automatic equipment and built up assembly line. It also set up a scientific center to improve product technological content.
Cooperation & Co-development
At the end of the interview, Tang said sincerely, "Since there are three abrasive associations in Zhengzhou, a city where national abrasives industry gather, I hope that the associations can build a national abrasive wholesale market to provide more opportunities for abrasives manufacturers. Besides, Abrasive association journals shall be assigned to as many clients and downstream companies as possible to make them grow stronger."
See the original article at: http://www.iabrasive.com/articles/an-interview-with-zhengzhou-anhua-looking-around-the-world
For more information about abrasives industry, please visit: http://www.iabrasive.com/