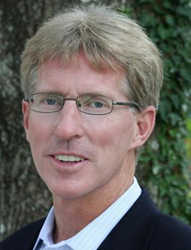 "Tom was a college basketball standout before his years as an executive with some of the world's best-known tech companies. He's a tough competitor who wants to win, and is now applying that mindset to fighting MSA.
Wilmington, NC (PRWEB) August 07, 2014
The Multiple System Atrophy (MSA) Coalition, an organization dedicated to serving patients, caregivers and families touched by MSA, has announced the appointment of veteran tech industry exec Tom Looney of Wilmington NC to its Board of Directors. Diagnosed with MSA in 2008, Mr. Looney becomes the first-ever patient to serve on the MSA Coalition's board, which has been historically composed of doctors and caregivers. MSA is a rare degenerative neurological disease of the brain and spinal cord, and often classified as one of the "Parkinson's-Plus" conditions. In addition to resembling Parkinson's disease, MSA has additional symptoms involving impairment of the cerebellum and/or the autonomic nervous system.
Looney retired from Microsoft in 2008 after serving several years as their Industry Director, Homeland Security and Public Safety industry unit for North America. Before joining Microsoft, Looney served in senior sales and business development leadership roles for firms like Oracle and Active Software, and worked closely with business icon Steve Jobs during six years at NeXT Inc.
MSA Coalition executive board officer Pam Bower said, "On behalf of our entire board, we're delighted with the addition of Tom Looney to the MSA Coalition's board of directors." Tom's personal mantra, "Accept the Diagnosis; Defy the Prognosis", has fueled his ambitious daily exercise and wellness regime that has inspired patients, caregivers and doctors within the MSA community. Pam Bower observes that given Mr. Looney's background, his approach to fighting MSA shouldn't surprise anyone. Bower adds, "Tom was a college basketball standout before his years as an executive with some of the world's best-known tech companies. He's a tough competitor who wants to win, and is now applying that mindset to fighting MSA, both for himself and the rest of the MSA team."
Recently, celebrity chef and famed restaurateur, Kerry Simon, announced his own battle with MSA, in connection with a major MSA fundraiser held in his honor at the Cleveland Clinic's Lou Ruvo Center for Brain Health in Las Vegas. In remarks to the media, Mr. Simon memorably described MSA as "Parkinson's on Steroids." Introduced to Mr. Simon last year, Mr. Looney points to Kerry's courage and generosity for inspiring him to become more personally involved in helping others with the disease. Looney said, "Kerry Simon's successful fundraiser this year brought much needed media attention to MSA awareness and research priorities. And there are additional patients I consider to be "MSA Heroes", people like Frank Cervone, Bill Sydnor, Dave Dennis, Rex Griswold and the many others who have given their time, talent, and treasure to help others in the MSA community. Looney added, "I humbly join the MSA Coalition's board to represent and honor every patient who has been diagnosed with MSA, and to shine a light both on their accomplishments and challenges."
One of Mr. Looney's first projects will be to help launch a fundraising campaign called, "Shares for MSA cares for MSA", which will feature the donation of shares of stock, in addition to cash, for meeting philanthropic commitments to MSA awareness and research towards a cure. More details on the campaign will be released later this summer.
Mr. Looney says that the MSA Coalition has been a source of high-quality information and personal comfort since his own diagnosis, and that he hopes to help raise the impact of the coalition during his board tenure. Looney said, "The MSA Coalition is unique as an all-volunteer organization that has accomplished so much while serving so many. He concluded, "Most importantly, I would like to see the organization get properly funded in order to maximize its ongoing contributions to all the stakeholders in the MSA community."
About Multiple System Atrophy
Multiple system atrophy is a rare and fatal disorder with less than 15,000 Americans diagnosed and 35,000 undiagnosed at any given time. According to the National Institutes of Health, "Multiple system atrophy is a progressive neurodegenerative disorder characterized by symptoms of autonomic nervous system failure such as fainting spells and bladder control problems (neurogenic orthostatic hypotension), combined with motor control symptoms such as tremor, rigidity and loss of muscle coordination. MSA affects both men and women primarily in their 50s. MSA tends to advance rapidly over the course of nine to 10 years, with progressive loss of motor skills, eventual confinement to bed, and death. There is no remission from the disease. Currently no cure is available."
About the Multiple System Atrophy Coalition
The Multiple System Atrophy Coalition is a positive beacon of hope standing up to a little known, rare, insidious disorder. Made up of dedicated volunteers, The MSA Coalition has a primary purpose of encouraging and funding research to find a cure. The Coalition also provides much needed patient and caregiver support, educational resources, and advocacy to create awareness and to fight for issues important to the MSA community. For more information or to donate to The Multiple System Atrophy Coalition, please visit: http://www.Multiple-System-Atrophy.org.