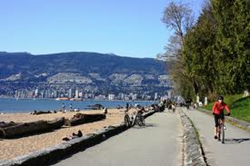 Each seamless leg of your trip will introduce you to the variety of distinct neighborhoods that make up the city core
Vancouver, BC (PRWEB) July 13, 2014
Victorian Hotel has recently announced that it will be creating excitement by promoting the rental of bikes for its "Cycle the City" program, which encourages visitors of the historic downtown Victorian Hotel to tour the area using a rental bicycle, available for just $30 per day, plus tax. Bicycle enthusiasts love to call Vancouver home, as it is a city with a great many options for cycle travel and picturesque journeys through the countryside. Vancouver hotel rooms often play host to tourists travelling to Vancouver for its spectacular views.
Enjoy Vancouver at the Victorian
If one is planning a trip to Vancouver to enjoy the countryside and the many biking trails, then why not choose the Victorian Hotel for a place to stay? The hotel boasts a number of luxurious amenities, including flat-screen televisions, complimentary breakfast and fluffy bathrobes. The trip will be made complete with the rental of a Pashley Cruiser, one of the highest quality cruiser bikes on the market.
"Within minutes you will be cruising the sea-wall at Coal Harbour away from all the traffic, through Stanley Park to English Bay, along the north edge of False Creek, past the Olympic Village to Granville Island," states a hotel representative regarding the Cycle the City program. "The route continues on the south shore to Kitsalaino Beach where all the 'beautiful people' go. Each seamless leg of your trip will introduce you to the variety of distinct neighborhoods that make up the city core. Guests constantly say that this day trip was the most memorable experience of their entire visit to Vancouver."
About The Victorian Hotel
Located in historic downtown Vancouver, the Victorian provides Vancouver Hotel Rooms in two amazing and charming Victorian style buildings. The hotel features 21st Century luxury with a flavor of the past, making for a unique experience. At the Victorian, guests receive exceptional service by real people who have a passion for hospitality. For more information or reservations, call 604.681.6369.