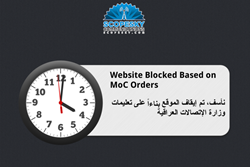 Within a week, Chatrandom lost over 75 percent of it's traffic from Iraq
Los Angeles, CA (PRWEB) July 15, 2014
In Iraq, Chatrandom traffic continues to slide as more and more Iraqis are not able to access the website. Other popular social media sites like Facebook, Twitter and Instagram also continue to be blocked from public access.
The crackdown on social media sites began in June of this year after the Islamist insurgent group Islamic State of Iraq and Syria, better known as ISIS, took to social media to wage a propaganda war. ISIS has been posting graphic images and videos, as well as updates on their anti-government campaign. In a screen grab from BBC.com, an ISIS member apparently even answers queries from interested parties.
According to a memo from Iraq's Ministry of Communication uploaded on DailyDot.com, the total shutdown is in effect in select provinces including Anbar, Diyalah, Kirkuk, Ninawa and Saleh El Din. An additional 11 areas are also affected by the shutdown. Some of these areas are known conflict zones between the militant group and the Iraqi government.
Other affected sites include YouTube, Skype, Tango, Google and Chatrandom. Chatrandom, a free webcam chat site, reported a "huge decrease in traffic from Iraq," according to Allen Fox, Co-Founder of Chatrandom.
Fox said, "Within a week, Chatrandom lost over 75 percent of it's traffic from Iraq. Chatrandom was the most visited chat site in that country especially after the fall of Saddam Hussein during which Iraqis reveled in their new-found freedom."
Popular sites like Chatrandom.com, which is ranked as one of the top 400 most visited sites in Iraq according to Alexa, are feared by the government as potential platforms for insurgents to gather support and communicate.
In a report from VentureBeat.com, the access ban started when ISIS took over Northern Iraq in early June. The restrictions were initially limited to Twitter, Facebook and Viber. However, seven websites maintained by ISIS were left untouched presumably for surveillance purposes.
Some anti-censorship organizations, like the Electronic Frontier Foundation, have expressed dismay and anger, noting that the blanket ban "will not achieve anything" and is likely to result in "cutting off a lifeline for activities and others to the outside world."
Fox added that while some users have taken to proxies to access Chatrandom, the numbers are "very small" and most users still have no way of accessing their accounts.
Both Twitter and Facebook also released statements that they are "investigating" the ban which is a "matter of concern."