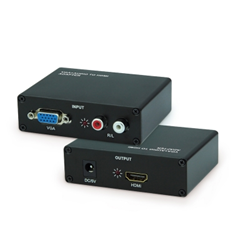 (PRWEB) July 13, 2014
Recently, Hiconn Electronics, an outstanding electronics accessory supplier, has announced its latest collection of VGA+R/L Audio to HDMI Converters. Now, the firm is celebrating the 2014 World Cup by launching a special offer for its high quality items.
The company's senior spokesman is proud of the new VGA+R/L Audio to HDMI Converters. A lot of the discounted items have been ordered by customers from around the world. What's more, they are all made according to the international quality standards.
Here are some details about the company's new VGA+R/L Audio to HDMI Converters:
--Easy to use, installs in seconds, no settings and it is a resolution pass-through converter
--Purely for conversion between video formats but not convert the input/output video resolutions
--Aluminum shell
--Compliant with HDMI 1.3
--Audio for input – 3.5mm
--HDMI output – upto 1080P
--Coming with certified 5V 1A power supply
--Retail paper box
As a matter of fact, the demand for high end high end electronics accessories is increasingly huge. Hiconn Electronics is a distinguished supplier of top quality products (like OTG Cables, USB HUB & Card Readers for OTG Mobile Phone, MHL to VGA Adapters and MHL to HDMI Adapters). Its one stop website provides worldwide customers with a truly convenient and interactive purchasing experience.
About Hiconn Electronics
Hiconn Electronics (Shenzhen Hiconn Electronics Co. Ltd.) is devoted to designing and manufacturing a wide range of connection cables and customized cable assemblies, offering many HDMI cables, VGA cables, SATA cables, USB cables, 1394 cables, DVI cables, SCSI (Small Computer System Interface) and more. For more information, please visit http://www.hiconn.net/.
Contact Person: James Yin (Sales Director)
Company Name: Shenzhen Hiconn Electronics Co., Ltd.
Address: Shenghua Building., Xixiang Road., Baoan District, Shenzhen, Guangdong Province, China
Zip Code: 518102
Tel: +86-755-8109 8345
Fax:+86-755-2779 3497