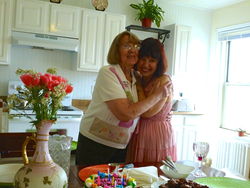 Dear Amy, Thank you so much for my 90th birthday poem! It brought tears to my eyes. Thank you from the bottom of my heart." Sincerely, Ruth, May 20, 2014
Providence, Rhode Island (PRWEB) July 15, 2014
PoemsToGo (PTG), a world leader since 2001 in developing original poems, speeches made for every occasion and toasts for all kinds of occasions, announces a brand new Responsive Web Design (RWD) at their website.
What does this mean? Now, http://www.poemstogo.tv can be accessed quickly and easily by customers on all kinds of mobile devices, including Smart Phones and iPhones as well as conventional iPads, laptops and desktop computers.
Amy Miller, President and founder of PoemsToGo, opted for these important new website enhancements in order to better serve customers with seamless efficiency – from anywhere. "Currently, we have customers in over 34 countries worldwide," says Miller. "Now, with an RWD website, we can take their orders whether they're at home or on the go."
Serving customers with the utmost of quality, affordability and consideration is what PoemsToGo is all about. The company serves individuals with original poems, speeches or toasts for all kinds of big occasions, including birthdays, anniversaries, weddings, bar mitzvahs (their candle lighting poems are always a big hit), promotions, retirements and much more. They even provide poems and speeches of sympathy, including eulogies that are truly heartfelt and unforgettable.
PoemsToGo also serves a corporate clientele with original roasts, tributes, feature articles and, if desired, marketing communications materials (advertising, brochures, direct mailings and more).
The difference between PoemsToGo and any other service is that PTG provides strictly original material. Once they order online, customers receive an exclusive questionnaire that's quick and easy to complete. PTG writers then use that material to create one-in-a-million emotional, funny, newsworthy poems, speeches, toasts and more – often within 5 business days (RUSH orders and other special orders are accommodated on request).
PoemsToGo's dedication to providing only original poems, speeches and toasts is born out of Ms. Miller's own professional background. She used to be a greeting card writer. "I loved it," she said, "but I never got into that 'off-the-rack' mentality. It was my dream to develop a way for providing customers with messages written specifically for them." Miller's ingenuity, combined with the Internet, made it all possible, and now PoemsToGo's new and improved website can be accessed by customers almost anywhere.
For more details, visit http://www.Poemstogo.tv. Or contact Amy Miller at (508) 330-0028 or amy (at) poemstogo (dot) tv. To place an immediate PTG order, click here.
On Twitter @poemsandspeech