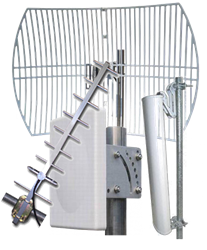 (PRWEB) July 13, 2014
ZDA Communications, a popular manufacturer of wireless antenna, has just released its Yagi antenna collection and introduced its cell phone antenna collection to the public. All these antennas provide unbeatable cost efficiency for point-to-point (P2P) and point-to-multipoint (P2mP) applications.
The new cell phone antennas from ZDA Communications include Yagi, parabolic dish, fiberglass omnidirectional, Rubber Duck style antenna, Sector, Patch series, etc. They cover the US 850 MHz & 1900 MHz, 1700/2100 MHz applications and European 925 MHz & 1800 MHz bands.
"Our cell phone antennas combine our latest technology and designs. They are designed for all the cellular bands worldwide, such as GSM, GPRS, CDMA, 1xRTT, DCS-1800, EDGE, EV-DO, UMTS, HSPA and LTE. No matter 2G, 3G or 4G wireless communication users can find suitable products at our online store," the sales director says.
"We count on our global clients to shape our products' future. All our products and designs are developed in close cooperation with our worldwide customers. We are pleased that the many local government users have selected us. We expect strong growth for our products," he adds.
ZDA Communications has mature technology to develop a full range of wireless antennas for its global clients; the business provides customized service to meet clients' different requirements. ZDA Communications promises to continue to deliver high quality antennas that seamlessly integrate fixed and mobile systems into a same network architecture, utilizing its latest technology and antenna controller systems.
About ZDA Communications
ZDA Communications US LLC is an ISO9001 manufacturer and supplier of all kinds of wireless antennas, including Yagi antennas, Parabolic dish antennas, cell tower sector antennas, external wireless antennas, mobile antennas, Broadband and Ultra Wide Band Antennas. For more details of ZDA Communication and its products, please visit http://www.zdacomm.com/wireless-antenna-category-by-applications/cell-phone-antenna-cellular-antenna/.