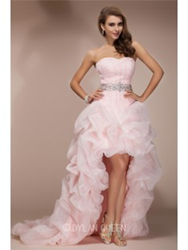 (PRWEB) July 13, 2014
Recently, Dylan Queen, a leading online supplier of wedding dresses and women's special occasion outfits, has announced its new selection of fabulous prom dresses on its website. Now, all these charming gowns are provided at deeply discounted prices, up to 66% off.
"We are happy to add the new fabulous prom dress collection to our product line. They are specially created for those who are in need of fashionable special occasion outfits. Each of them is great and vivid in style. I think our clients will love them. Please pay attention that the promotion will last for 16 days only. Ladies, just visit our online store as soon as possible if you are interested in these wonderful items," the company's sales manager says.
True enough, Dylan Queen is especially known for its nice special occasion gowns and amicable online service. A large proportion of its customers are quite happy with what they get. Thus, the company has confidence in the new fabulous prom dresses.
What's more, its diligent online workers update its online category every week. Dylan Queen wants to show more detailed information about its latest products and the newest fashion trends. Also, its top experts are always there to help. Customers can ask any related questions when shopping on its website.
About Dylan Queen
Dylan Queen is a reliable dress company. At its one-stop website, it offers a wide variety of chic dresses, including prom dresses, evening dresses, bridesmaid dresses, formal dresses etc. Its aim is to provide worldwide customers with fashionable gowns at acceptable prices. It frequently updates its website with new assortments.
For more details of the company and its products, please visit http://www.facebook.com/iDylanQueen or http://www.dylanqueen.com/prom-dresses/?shown_color=136.