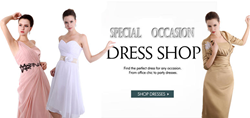 (PRWEB) July 15, 2014
FancyFlyingFox.com, a leading provider of women's special occasion dresses, has announced the pretty 2014 mermaid wedding dresses recently. According to the manager of the company, all these new items are for sale now, and the discounted offer will come to end on July 30, 2014.
The manager says, "We are very excited to unveil the new design mermaid wedding dresses. You can see each of them look elegant and charming. We try our best to create these outstanding wedding dresses. In order to allow more ladies to put on our beautiful dresses, we announced a big sale for our new and old clients around the world. Please visit our online shop as soon as possible, We guarantee you won't be disappointed."
Providing a variety of ladies' beautiful dresses, FancyFlyingFox.com was a huge success in Asian markets, in fact, it has become one of the most popular providers already. Its customers are all over the world. The company is always trying to do their best to create more high-quality products and provide better service to their new and old global clients.
What's more, FancyFlyingFox.com is offering all kinds of ladies dresses, such as wedding dresses, prom dresses, and special occasion dresses, each one can buy these items thought their online shop conveniently, and enjoy the greatly shopping experience on its website.
About Fancyflyingfox.com
Fancyflyingfox.com is the leading online retailer for wedding gowns, special event dresses, wedding party dresses, and accessories. Ladies will find a massive range of high-quality wedding dresses, evening/prom gowns, flower girl dresses and more. Fancyflyingfox.com provides hundreds of dedicated items for global buyers.
For more details about the company and its dresses, readers can visit http://www.fancyflyingfox.com/mermaid-trumpet-wedding-dresses-c10/.