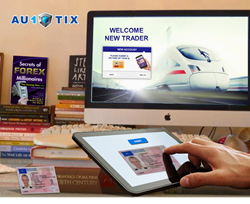 According to eToro's evaluation team, with 84% success rate and unmatched processing speed, AU10TIX BOS has been "No match to any other solution tested" across all supported documents.
Nicosia, Cyprus (PRWEB) July 14, 2014
eToro has carried out extensive comparative tests of the AU10TIX BOS system against other high profile ID authentication solutions. Testing included hundreds of images of ID documents supported by AU10TIX BOS. According to eToro's evaluation team, with 84% success rate and unmatched processing speed, AU10TIX BOS has been "No match to any other solution tested" across all supported documents.
eToro will use AU10TIX BOS to accelerate customer acquisition while stepping up ID fraud protection. AU10TIX BOS will enable eToro to replace and augment manual examination and processing with cutting edge image analytics and fraud detection technology. BOS incorporates AU10TIX's standard-setting 3-way authentication methodology which combines logical data checks, image tampering forensics and file meta-data extraction. The system also stands out in the performance speed achieved against others by advanced parallel processing technology. AU10TIX BOS supports scaleable operation and will enable eToro to grow its global operation in a safe and efficient way.
"This is an example of what puts eToro a cut above the rest," says Avi Sela, Chief Operating officer of eToro: "We are innovators. We insist on having the best technologies that enable us to offer superior service to our customers, best compliance to regulations, best protection against fraud, and best operating efficiency. We spared no effort in testing the best solutions on the market. We found AU10TIX BOS to be the most suitable solution for us."
"Having won eToro's confidence means a lot to us," says Ron Atzmon, Managing Director of AU10TIX: "Especially after such a thorough testing procedure. What makes us exceptionally happy is the wide gap demonstrated by AU10TIX BOS from other high profile solutions. AU10TIX BOS came out better across all parameters including accuracy, speed, and actual traffic coverage."
About eToro
eToro is the world's largest social trading and investment network, offering traders easy access to the currency, commodity & equity markets. Thanks to eToro's innovative trading technologies, traders from all over the world can now invest their money in a simple, enjoyable and transparent way. Through the award winning eToro OpenBook and WebTrader platforms, over 1.75 million traders are empowered to learn from each other, share live trading information and even capitalize on their collective trading power thanks to the CopyTrader feature. These same traders can also use eToro's social trading services on the go, with eToro's Mobile Trader for Android, iPhone and Blackberry. eToro's customers enjoy the financial services of respectable and regulated brokers around the globe, who make sure to provide customers with optimum liquidity conditions and impeccable execution. With thousands of new accounts created each day, and local offices around the world, eToro has established itself as a leader in the retail financial trading industry.
For more information, visit http://www.etoro.com/.
About AU10TIX
AU10TIX Limited, a fully owned subsidiary of ICTS International N.V, deals with the authentication and digitization of identifying documents including Passports, identity cards, driving licenses and other complementary identifying documents. The company specializes in implementing hardware & software based applications used for scanning, identifying, content retrieval, authentication and validation of identifying documents. AU10TIX is a pioneer of all-channel (front-end and online) ID authentication and processing solutions. The company's products drastically reduce identifying document-based fraud, reducing the costs associated with client processing and enabling effective regulatory compliance, while making the sales and support operations speedier and considerably more efficient.
For more information, visit http://www.au10tix.com.
About ICTS International N.V.
ICTS specializes in the development and implementation of innovative security concepts and solutions designed to meet the needs of a variety of industries, mainly aviation transportation, border control and sensitive facilities. ICTS International benefits from over two decades of expertise and international operational experience in transportation security, with a particular emphasis on high-risk environments, passenger processing transactions and the integration of security services to provide a comprehensive security solution. It also offers a wide variety of customized training programs, tailored procedures and a wide range of security consulting services. The company has developed and implemented unique technological solutions, based on its comprehensive approach to security, designed to enhance the level of security while accelerating the security check process.
For more information, visit http://www.icts-int.com.
This press release contains "forward-looking statements" within the meaning of the Private Securities Litigation Reform Act of 1995, regarding the Company's business strategy and future plans of operations. Forward-looking statements involve known and unknown risks and uncertainties, both general and specific to the matters discussed in this press release. These and other important factors, including those mentioned in various Securities and Exchange Commission filings made periodically by the Company, may cause the Company's actual results and performance to differ materially from the future results and performance expressed in or implied by such forward-looking statements. The forward-looking statements contained in this press release speak only as of the date hereof and the Company expressly disclaims any obligation to provide public updates, revisions or amendments to any forward-looking statements made herein to reflect changes in the Company's expectations or future events.
Contact:
eToro
Nadav Avidan, PR & Communications Manager
Email: nadavav(at)etoro(dot)com
Tel.: +972-73-2656600 (ext 697)
AU10TIX
Ofer Friedman, VP Marketing
Email: ofer.friedman(at)au10tix(dot)com
Tel.: +357 (22) 007 698
ICTS International NV
Alon Raich
Email: mail(at)ictsinternational(dot)com
Tel.: +31 (203) 471 077