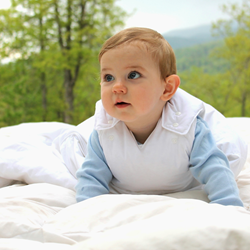 Our baby actually sleeps more soundly in her Snap Sack, and you cannot put a price on sleep!
Asheville, NC (PRWEB) July 16, 2014
When you're a registered nurse who's had six children in the last 10 years, you know a thing or two about how to help babies sleep. This is the reason Baby Snap Sacks® are growing in popularity -- and why Asheville momtrepreneur Susan Isler's "Milk & Honey Company" is making sure there are plenty of comfy, breathable sleep sacks to go around.
Demand for the patent-pending sleep sacks has increased to such a degree that production of the Baby Snap Sack® is moving out of the homes of local seamstresses, to full-scale manufacturing in Ohio.
The Baby Snap Sack® is a one-size, down-filled baby sleep sack that can be adjusted with snaps to fit babies and toddlers. The sleep sack features a two-way zipper for both bottom and side access, making it easy to change diapers and adjust for temperature regulation.
Isler arrived at the idea through her experiences with her own children. Her Baby Number Two once became tangled in her blanket, which ended up wrapped around her face, thankfully without harm. Baby Number Three slept in a standard cotton sleep sack, but would wake up cold. When switched to a heavier fleece variety, Baby Number Three would wake up sweating. Isler saw her next babies each quickly outgrow their sleep sacks, no matter the material, and Velcro closures not holding up through multiple washes.
The lack of safe, comfortable baby sleeping bags on the market led Isler to create something of her own. With a rough hand-sketched pattern and an inherited sewing machine, she designed a down-filled, adjustable sack, and through the years made improvements to the blanket's aesthetics and function.
"I wanted to create something that was perfectly cozy, light, and lofty for year-round use -- something that both babies and moms would love," she said.
Customers say Isler has created the perfect solution for new parents – a safe, quality product. Customers report their babies sleep more soundly in the Milk & Honey Sleep Sacks. They say their babies are more comfortable and stay warm without overheating.
An Ohio-based team of sewers will make the sleep sacks out of an assortment of designer prints combined with down-proof cotton. Then an established down bedding company will fill them with a precise amount down. "With these manufacturing partners, we'll be able to assure the same high quality and design, but on a broader scale," said Isler.
According to Isler, this is good news for moms everywhere, as they can be confident in ordering the sleep sacks in time for upcoming due dates, baby showers, and holiday gift giving. Four new prints will be available in the fall, with new prints continually being added.
In addition to the sleep sacks, The Milk & Honey Co. also makes the Milk & Honey Wrap® - a nursing cover and baby blanket, also with a patent pending. Inspired by her experiences with Baby Number Five, who would pull or kick off her blanket as she nursed, Isler designed the wrap with strategically placed labels and snaps to secure for privacy, and a cowl neck drape to provide mom the ability to view her nursing baby.
The sleep sacks and nursing blankets have been tested by an accredited agency and meet CPSC safety standards. Both are available at http://www.themilkandhoneyco.com.
About Milk & Honey
The Milk & Honey Company was formed in 2009 by Susan Isler, a nurse and mother of six who was seeking a safe, cozy, and breathable sleeping solution for her babies. Today, the company is based in Asheville, NC, and partners with sewers and down manufacturers in southern Ohio to produce the Baby Snap Sack®, a "sweet sleep sack that grows with your honey," as well as a line of nursing covers made in South Carolina. Both make ideal gifts for baby showers, holidays, and new parents. More details and ordering information are available online at http://www.themilkandhoneyco.com.
The Milk & Honey Company
Press Downloads
Media Contact: Susan Isler