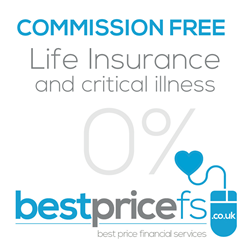 (PRWEB UK) 15 July 2014
Best Price Financial Services, the innovative website that allows consumers to compare financial services products online and purchase them directly from the provider, has partnered with a number of blue-chip financial services companies to launch a number of commission free life insurance packages at the lowest total cost to the consumer available in the market.
The company achieves this by charging customers a fee of just £20 to purchase its life insurance products which are available from companies including Aviva, Legal & General, Zurich, Liverpool Victoria and Scottish Provident.
Best Price FS emphasizes that the quality of the products available through its site is equal to that of other higher priced products available through other brokers, including other online brokers, and that the lower overall cost is achieved by the company foregoing a commission from the provider and instead opting to charge a small, upfront fee direct to the customer.
The best price life insurance products offered include a choice of level-, increasing- and decreasing-term insurance policies which can be tailored to suit the individual circumstances of customers. The website offers four types of profile that the products can cover including single life cover, couple's life cover, family life cover and divorcee life cover.
Richard Harry, director and founder of Best Price FS, said:
"It's important that people buy the product that would best meet their needs should the worst happen. At Best Price FS we provide quality life insurance policies at the lowest possible rates through our providers. When customers buy through our web site they know that all of their budget, except for £20, is paying for the benefits of the product they've chosen rather than going to pay higher fees or commissions.
"It takes just three simple steps to purchase life insurance from us; you fill out the form, receive your quotes, then choose and buy your policy. A comprehensive Key Facts document is available to view for each policy prior to purchase so that the customer can assess the suitability of the product for their needs."
How Do We Compare?
Best Price Financial Services £20.00
Money World £25.00
Money Minder £25.00
Commission Free Life Cover £32.00
Cavendish Online £35.00
Best Price FS has worked closely with providers to ensure its products offer excellent benefits and are suitable for the majority of the population. However, for more complex life insurance protection solutions, Best Price FS has an advisory arm, HHPG Ltd (01639 860111) who are happy to speak to customers for whom the policies provided via the website are not suitable. To visit the web site go to http://www.bestpricefs.co.uk