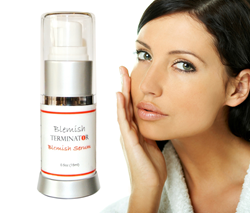 'We developed the Blemish Terminator® Serum as a reponse to our clients with oily skin or adult acne,' says Kathy Heshelow, founder of Sublime Beauty®. 'Yet our aging clientele with dry or normal skin loves it for the benefits, too.'
St. Petersburg, FL (PRWEB) July 16, 2014
Both glycolic and salicylic acids are well-known to help all skin types - for different reasons.
They are ideal for oily or acne-prone skin to clear pores, cleanse, reduce acne and exfoliate. Normal, dry or aging skin benefit from these same ingredients thanks to gentle exfoliation and encouraging collagen synthesis.
"We developed the Blemish Terminator® Serum as a reponse to our clients with oily skin or adult acne," says Kathy Heshelow, founder of Sublime Beauty®. "Yet our aging clientele with dry or normal skin loves it for the benefits, too."
Glycolic and salicylic acids are the most common of the alpha hydroxies (AHAs). They help to reduce fine lines and wrinkles because they clear dead skin cells away, encourage collagen synthesis and unclog pores. They also help reduce skin roughness and photodamage.
The Blemish Terminator® Serum includes salicylic acid at 3% and glycolic acid at 2%. It is a clear, silky serum which is easy to use.
Oily skin types benefit from 1-2 applications daily. Normal and aging skin benefit from 2-3 applications weekly.
"I use the serum on my 'T-Zone' with great results," says Heshelow. "It helps reduce the oil on the nose and chin, and minimizes the pore size."
The serum is also available at Amazon and is part of the new Blemish Terminator® line at Sublime Beauty® which includes a day cream, mask, salicyclic wash and blemish zap.
ABOUT: Sublime Beauty® is a quality skincare company that focuses on products to "Age Younger". Products help to boost collagen, hydrate, relax wrinkles and improve skin. A niche includes healthy Skin Brushes. The company webstore offers free standard shipping and a VIP Club. Sign up for Secret Sales on the site. Products also available on Amazon.