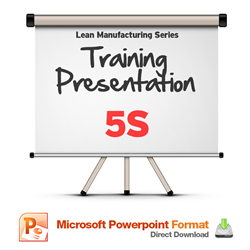 "This product is the ticket to a simple and affordable presentation for 5S programs."
Lake Oswego, OR (PRWEB) July 15, 2014
Many businesses these days don't have the money to hire professional speakers when it comes to training presentations. Creative Safety Supply is now making it easier and economical for everyone to have professional training seminars at your own place of business. The 5S PowerPoint Training presentation, now offered through Creative Safety Supply, is a 40-60 minute PowerPoint presentation that will introduce your audience to the principles of 5S. It is a great addition for 5S programs when it comes to training employees on how to reduce waste and optimize productivity through maintaining an orderly workplace. The presentation teaches the methods and implementation of cleaning up and organizing the workplace. It will take a company from an inefficient and unproductive work environment to a facility with smooth and efficient flow of work activities.
The 5S Training PowerPoint is a product for all Lean workshops and is great for teaching groups, as an individual computer training module, or as a traditional slideshow for a training presentation. It is offered as a native Microsoft PowerPoint format and the 43 slides can be easily customized to accommodate anyone's presentation style. A training coordinator commented, "This product is the ticket to a simple and affordable presentation for 5S programs."
The presentation will walk through and explain the background and history of 5S and how it can take a disorganized facility into a lean facility. Topics of discussion will include the five methods of a 5S program resulting in continuous improvement. Trainees will not only learn the five methods of Sort, Straighten, Shine, Standardize, and Sustain and how to implement them into your individual workspace but they will also learn about visual cues that can be used to raise employee understanding of proper waste handling and management procedures.
For more information about the 5S PowerPoint Training presentation, please visit http://www.creativesafetysupply.com or call toll-free (866)777-1360 to speak with a professional representative.