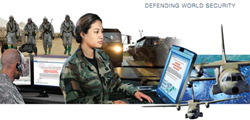 The proposed system configuration and deployment highlights the most cost effective and highest possible USAF security posture, Howard Ryan, CEO and Founder Desktop Alert Inc.
Chatham, NJ (PRWEB) July 14, 2014
Desktop Alert Inc. today announced that the company is providing its 'less-than-one-minute' award winning network alerting mass notification technology to the United States Air Force and other Department of Defense entities in the Amazon Web Services Cloud (AWS).
The company is the official provider of the enterprise notification system to the Air National Guard, Army National Guard, United States Air Force Academy, USAF Space Command at Peterson Air Force Base, NORAD/Northern Command, and is the largest provider of IP-based notification services to the U.S. Army worldwide including Fort Hood.
As a worldwide leader in both cloud-based and on-premise based state-of-the-art mass notification systems across both disparate platforms and dissimilar networks Desktop Alert and Amazon Web Services (AWS) are an ideal team to develop and deploy USAF Common Computing Environment (CCE) in the AWS environment.
Desktop Alert is the only vendor with a USAF Worldwide Certificate of Networthiness. All other known systems utilize restrictive local authority to operate certification(s) (AtO).
The proposed system configuration and deployment highlights the most cost effective and highest possible USAF security posture. With the proposed Desktop Alert System, the emphasis is on redundancy first and foremost. There must be a risk assessment measure that interrogates a balance between web traffic leaving the base and USAF boundaries verses traffic within a network and its boundary (firewalls and proxies) which is safer than traffic that leaves the base. Desktop Alert provides a highly secure and low-cost hybrid model which leverages owned in-place computational infrastructure while simultaneously engaging the AWS cloud for redundancy as a primary AWS mission.
"Desktop Alert was commended for 'a job well done' at the recent Fort Hood shooter event. Desktop Alert (locally installed at Fort Hood) was the only network alerting system activated during the 'active shooter event'. The Desktop Alert System notified the entire Fort Hood Post population in minutes via Desktop Alert pop-ups, text messages and e-mails. During the 'all clear' alert, Desktop Alert outperformed cloud-based tertiary alerting capabilities by several minutes. When lives are at stake, seconds count. Following the shooting, General Odierno said he believes the alert procedures developed after that shooting as well as the training provided to Soldiers, may have helped prevent yesterday's tragedy from developing into something "much worse,"" said John Monville President Desktop Alert Inc.
"Our USAF wide approved notification system has proudly served the USAF Space Command at Peterson AFB, the USAF Military Academy and Buckley AFB as the primary network alert system for over 7 years with spectacular past performance reports. Our notifications systems ability to integrate with PC's, E-Mail, Giant Voice, intercom systems, CISCO, Dialogic Communicator and Avaya phone systems as well as CAP, digital signage, the Commanders channel and social media end-points has promoted DoD considerations for our products and services to the Amazon and Azure cloud," said Howard Ryan, CEO and Founder Desktop Alert Inc.
Desktop Alert is submitting to the USAF and the Rapid Innovation Fund (RIF) program compelling evidence to consider deployment of the companies notification system for an Air Force Common Computing Environment (CCE) for Mission Assurance Category (MAC) II applications with the Amazon Web Services (AWS) cloud.
"The deployment of a secure Common Computing Environment in the Amazon AWS cloud will enhance MAC II application gestation and deployment resulting in significant savings and expanded emergency notification capabilities across the Department of defense. Our company strongly asserts that it will save the government millions of dollars for the innovative AWS deployment being spearheaded by the governments Rapid Innovation Funding (RIF) Program when properly researched and compared to all known current vendors being considered," Ryan added.
The company provides cryptographic security services to protect communications over Internet Protocol (IP) networks, virtual networks dedicated to your DoD AWS accounts and connectivity to USAF NIPRNET.
"It is our mission at Desktop Alert to provide our customers a reliable IP-based notification system capable of getting the message to the right people when seconds count. Our partnering with AWS would provide the military and USAF additional architectural options and furthermore demonstrates the flexibility of our technology. We believe we are THE ideal notification solution for an AWS cloud based environment. It has been well demonstrated that Desktop Alert can deliver notifications at a higher rate of speed with fewer resources than most other notification capabilities being used by USAF today. In a cloud based environment structured for redundancy as its primary mission, fewer resources equates to lower costs for the military," said John Monville, President Desktop Alert Inc.
About Desktop Alert: http://www.desktopalert.net
Worldwide U.S. military organizations such as the U.S. National Guard, the U.S. Air Force Academy, the U.S. Military Academy at West Point, Multi-National Forces in Iraq, the U.S. Air Force, and The U.S. Army now utilize the Desktop Alert total mass notification platform daily for their organization's emergency communication requirements. Desktop Alert can contact thousands of computer users at their desktop and require them to click to confirm receipt of the message flashed on their screen. Those not verified can then be listed on a report and/or sent as a "Target Package" to be automatically contacted by other means such as email, SMS, phone calls and other devices.