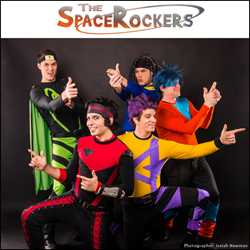 This Saturday The Space Rockers will be landing to Restore the Party!
Austin, Tx (PRWEB) July 15, 2014
Lake Travis' favorite waterfront waterpark announces additional "Adult Night" dates for Summer 2014.
Come Bikini ready for a wet 'n wild good time. The Volente Beach Water Park hosts live concerts performed in the park. It's a good time to be had by all, that is if you are 18 & up, so leave the kiddos behind and come out for some after dark water park fun with great food, good music and lots of libations. Swim up to the Tiki Bar in one of the three pools, hang out at the Beach Bar and jam, get to slip sliding away on one of our three water park rides.
Tickets $12 at the gate. Click for Discounted Tickets.
Doors open at 7:30pm and the park stays open till 11:00pm.
July 19 & Aug 31
Come out for some Out of this World Fun, The Space Rockers will be landing to Restore the Party!
Crowds can't stop dancing to hits from the 80's, 90's and beyond. These hilarious cartoon-like characters play their own brand of "superhero dance rock," revered for their rock-charged versions of hip hop and pop.
Aug 16
Get Movin' & Groovin' with Platinum 5, with their variety of Top 40, Disco, 80's, 90's, Hip Hop, & Rock music - Platinum 5 does it all! They will keep the Party Hoppin' all night.
Volente Beach Water Park is located at 16107 F.M. 2769 Volente, Tx. Come by land or water, with a 100 feet deep water in front of Volente Beach, boat parking at The VIP Marina.