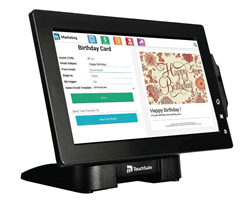 Our clients in the salon and spa space are in need of efficient, simple, and cost-effective tools with which to connect to their customers and market themselves in the digital space.
Boca Raton, Florida (PRWEB) July 15, 2014
After only three months on the market, TouchSuite's latest and most advanced point-of-sale solution to-date, the Firefly, has launched the first phase of this salon POS system's integrated marketing suite with a variety of programmable email communications, allowing salon owners to reach their clients with promotions and reminders without ever having to manually send another email. These updates come just a week after the leading U.S. technology company announced that key social media channels are now available directly in the Firefly, as an integrated function accessible from both the main system and any connected Android devices.
"Our clients in the salon and spa space are in need of efficient, simple, and cost-effective tools with which to connect to their customers and market themselves in the digital space," said TouchSuite CEO Sam Zietz. "With our latest advancements through Firefly's new marketing suite and social media integration, we know that we are satisfying that need and allowing them to compete even against large, national salon chains."
Firefly's new email marketing tools allow salon and spa owners and their staff to set up different email communications to clients that would automatically be sent at a preprogrammed date and time. Some of the email communications currently available include appointment reminders, birthdays, and follow up Thank You notes. Within the system's marketing suite, users first choose the digital communication they wish to create. From here, creating and editing is simple, with a variety of well-designed templates requiring only minimal customized input before the communication is ready to be scheduled. Variables such as dollar amount spent per appointment can also be added to the program, triggering specific targeted communications and allowing business owners to segment their clients.
As an Android-based system with an easy-to-use application, TouchSuite Firefly provides business owners with a solution that delivers unprecedented performance of its average competitor. The POS system is customized primarily to support salon and spa owners who require a business solution that allows their team to easily execute client transactions from anywhere within the salon and allow them to run their business beyond salon walls. Future applications of Firefly will be tailored for other customer-service focused and hospitality businesses, including retail establishments.
About TouchSuite: TouchSuite is one of America's leading technology companies focused on the electronic payment space and has been honored five times on Inc. Magazine's "Inc. 500" list of the fastest growing private companies in America. Its award-winning, patented point of sale systems are fully integrated with payment processing and credit card services catering to restaurants, salons and spas. The systems are designed to help small- and medium-size merchants increase revenue by using the provided tools and solutions. The company's latest salon POS system, Firefly, offers the most advanced salon software on the market to-date, including full mobile capabilities. TouchSuite's sales infrastructure provides merchants and agents with an unprecedented 24/7 support system and ensures a positive user experience. TouchSuite is headquartered in Boca Raton, FL. For additional information about TouchSuite, its company and services, please visit http://www.touchsuite.com.