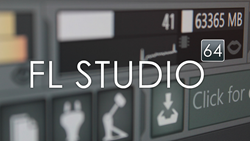 FL Studio 64 Bit
(PRWEB) July 15, 2014
FL STUDIO 64 BIT FEATURES

Access up to 512 GB memory, depending on your Windows version.
32 Bit bridged and 64 Bit native VST plugin support.
Project compatibility between 32 and 64 Bit versions.
FL Studio available as a 64 Bit VST plugin for use in 64 Bit VST hosts.
INSTALLER
FL Studio 32/64 Bit Full Installer
LIMITATIONS
The following features & plugins rely on 3rd party code that is not available in 64 Bit at this time - Buzz Adapter, Edison 'Clean Audio' function*, FL Slayer, Fruity Soundfont Player*, Synthmaker/Flowstone*, Wasp/Wasp XT.
*Planned for a future 64 Bit update.
FREQUENTLY ASKED QUESTIONS

What's the difference between FL Studio 32 and 64 Bit? – The maximum memory 32 Bit applications can access is limited to 4 GB while Windows currently sets the 64 Bit limit to 512 GB. However, FL Studio 32 Bit includes several memory management tools that allow users to bypass the 32 Bit 4 GB limitation by loading samples and VST plugins in separate processes that don't add to FL Studios memory count. Although, the core FL Studio 32 Bit process is still limited to 4 GB and so out-of-memory errors can occur when editing very long audio files in Edison, or when the memory management techniques are not used. This won't happen with FL Studio 64 Bit. Additionally, FL Studio 64 Bit also includes a complete update of most plugins to native 64 Bit format.
Should I use FL Studio 32 or 64 Bit? - The answer depends mainly on your 3rd party VST library. 32 Bit plugins work best in FL Studio 32 Bit and 64 Bit plugins work best in FL Studio 64 Bit, meaning slighltly less CPU load. If you have access to all your 3rd party VST plugins in 64 Bit format, then feel free to make the switch. If you still use lots of 32 Bit plugins, perhaps 64 Bit versions are not available, then we recommend you stay with FL Studio 32 Bit. Remember, you can use both FL Studio 32 and 64 Bit depending on your needs.
Are FL Studio 32 and 64 Bit projects compatible? - Yes. You can load projects made with FL Studio 32 Bit in FL Studio 64 Bit and vice versa. For example, when you load a FL Studio 32 Bit project in FL Studio 64 Bit, all plugins are automatically loaded with 64 Bit versions, so long as the 64 Bit version exists. When loading 64 Bit projects in the FL Studio 32 Bit the reverse is also true. If the Bit-equivalent plugin is not available, then the original plugin is loaded and bridged. Where a project contains plugins mentioned in the 'Limitations' section, you will get a missing plugin error message, but the project will still load.
I have Windows 64 Bit should I use FL Studio 64 Bit? - Windows 64 can run both 32 and 64 Bit applications. We recommend existing FL Studio users, with a large library of 32 Bit VST plugins, stick with FL Studio 32 Bit and use FL Studio 64 Bit for those projects where the extra memory capacity is actually useful. If you can also switch your VST plugins to 64 Bit versions then certainly FL Studio 64 Bit is recommended. Windows 32 Bit can't run 64 Bit applications, so here you must use FL Studio 32 Bit.
Can I use 32 Bit plugins in FL Studio 64 Bit? - Yes you can. You can also use 64 Bit plugins in FL Studio 32 Bit. This is possible with a 'bit bridge'. This is code that allows 32 and 64 Bit applications to share data. There is a small CPU hit when bridging plugins, so we recommend minimizing the number of bridged plugins in your projects. Bridging is automatic, so you don't need to do anything special to make it happen.
Does FL Studio 64 Bit sound better than FL Studio 32 Bit? - No. We refer you to the Audio Myths and DAW Wars white paper.
Are 64 Bit applications faster than 32 Bit applications? - In theory 64 Bit code on 64 Bit CPUs can be faster, but there are many factors influencing the speed of DAW software, to the point there is not usually any meaningful difference.
Memory Address Space and RAM, aren't they the same thing? - No. The amount of physical RAM your PC has does not restrict how much memory programs have access to. Each program is allocated memory address space by the operating system, where it can save and retrieve working data. 32 Bit programs max out at 4 GB per program. 64 Bit programs, under Windows, can access up to 512 GB. If there are 4 programs running, there could be 16 GB (32 Bit applications), and up to 2 TB (64 Bit applications) of memory in use between them. If there is not enough physical RAM to accommodate the memory allocations, the Operating System makes up for any shortfall with a special file on the hard drive acting as an extension to the RAM. Swapping data on and off the hard disk memory-cache file slows down your PC and that's why having lots of RAM is a good thing. The slow cache file isn't needed.
Why is this so complicated? - It's actually not so complex. FL Studio 32 Bit (with memory management features described above) and FL Studio 64 Bit can handle projects of virtually any memory size you need, so you can take your time to make the switch if and when it makes sense for you. We have made it easy to work with both FL Studio 32 and 64 Bit with inter-version project compatibility. If you experience out-of-memory errors with plugins like Edison, or are regularly bridging plugins to access more memory, then we recommend you consider making the switch to FL Studio 64 Bit. If you decide to switch full-time to FL Studio 64 Bit we strongly recommend you update your entire VST plugin library to 64 Bit at the same time. Please remember, 64 Bit provides access to practically 'unlimited' memory without bridging plugins (as with FL Studio 32 Bit).
Established in 1994, Image Line Software provides high quality music applications to the computer-based music community and is well-known for its leading digital audio workstation FL Studio (formerly FruityLoops), FL Studio Mobile for Android and iOS; high-quality synthesizers including Autogun, DirectWave, Drumaxx, Groove Machine, Harmless, Harmor, Morphine, Ogun, Poizone, Sakura, Sawer, Slicex, Sytrus and Toxic Biohazard. Innovative effect plugins including Gross Beat, Hardcore, Maximus, PitCher & Vocodex; and finally, a wide range of sample libraries used in their multi-sampler plugins DirectWave and Soundfont Player. Image-Line also produces the acclaimed DJ mixing software application Deckadance. In addition to its audio software, Image Line Software develops and distributes the web site building application, EZGenerator.
For more information, please contact:
Scott Fisher, Communications Manager
Image Line Software
E-mail: press(at)image-line(dot)com
# # #