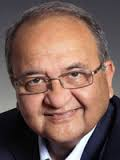 If you can dramatically improve outcomes, and demonstrate them clinically, then extraordinary financial returns will follow. We believe in actively building companies that change medicine.
New York, NY (PRWEB) July 15, 2014
The Ivy Family Office Network hosted its May 2014 Family Office Outlook Forum in New York, NY on May 7th. Mir Imran, Chairman & CEO of InCube Labs, led a panel discussion on "The Future of Health Care Investing".
Mir Imran formed InCube Laboratories in 1995 to focus on his passion: creating and capitalizing biomedical breakthroughs that become the standard of care. Mir, who holds more than 350 issued patents, began his career by pioneering the world's first Implantable Cardioverter Defibrillator. Over the decades since, he has become one of the world's most successful entrepreneurs and investors in healthcare markets such as pain, neurology, obesity, urology and cardiology.
During the panel, Imran commented, "If you can dramatically improve outcomes, and demonstrate them clinically, then extraordinary financial returns will follow. Our investment team does not think of the world in terms of financial engineering or fees; instead, we believe in actively building companies that change medicine, and mitigating risk at every step. We like co-investors who believe in our mission and approach."
Imran continued, "It's not just that we have creative ideas. We do, but that's only part of the story. The key is that we have a creative model, backed by rigorous process and domain expertise. "
Imran also addressed InCube's work, "At InCube, our research approach is driven by clinical need. As a result, we are generally agnostic to specific technologies, and apply the most appropriate technology for the clinical need at hand. Going forward, in many of our current research projects, the solutions we're developing blend traditional device technologies with the world of pharmaceuticals, protein chemistry and cell biology. The Wall Street Journal recently profiled Rani Therapeutics, which can make biologics orally available; it's an interesting example of where we are".
Other speakers on the panel included Fred Nazem, of Nazem & Company, Ken Sorensen and Jay Fisher of Calibre Consulting Group LLC.
About The Ivy Family Office Network Forum
The Ivy Family Office Network Forum, IvyFON, provides an ongoing dialogue for family offices to support high-value education and information on trends for family office investing, structure and operational excellence. Attendees gain practical strategies and solutions to achieve both short and long-term objectives. The program features off-the-record, peer-to-peer discussions in a non-commercial setting, in-depth and highly interactive sessions.
IvyFON, is a leading peer to peer global family office network with several hundred family offices attending events around The Americas every year. Some of the more than 2,000 past speakers include most of the top 10 largest asset allocating consultancies, pre-eminent alternative investment funds, leading institutional investors, best-in-class asset management professionals, family office subject matter experts and world-class family offices.
Forum sessions are multi-format and cross-disciplinary covering a range of family office centric topics.
IvyFON originates from one of the United States' oldest and largest alternative investment networks, the IvyPlus network. IvyPlus originated as a peer to peer private equity, real estate and hedge fund network consisting of Ivy League and comparable school alumni as well as meritorious participants in the program. The group includes New York City and Los Angeles deal networks across multiple disciplines including private equity, health care and real estate. More than 20,000 investment, family office and institutional investment professionals have attended forums globally.
For more information on InCube Labs, go to http://www.incubelabs.com.. For more information on the Ivy Family Office Network, contact us at 646-290-8114 or at ivyfon.com/contact.html.