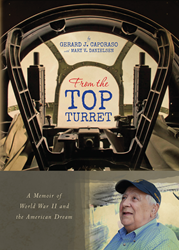 They said the life of a gunner is 20 or 30 seconds long. I was just a wide-eyed kid when I heard that statement in 1942. How quickly I learned the truth that in war every second of life is precious.
Mount Laurel, N.J. (PRWEB) July 14, 2014
Documented Legacy, a mobile personal historian company based in Mount Laurel, has announced the publication of its first military memoir about a World War II veteran, who survived a plane crash on Black Thursday in October 1943 and 19 months as a prisoner of war before a 300-mile Death March to return home and build the American dream.
From the Top Turret: A Memoir of World War II and the American Dream (Amazon) is a true life story of Gerard Caporaso's courage, faith, family and commitment. It is filled with sage lessons, written by Caporaso, 93, of Summit, New Jersey, and co-written by Mary V. Danielsen of Documented Legacy. The book begins with Caporaso growing up as one of 11 children in Chatham, New Jersey. It takes readers on his tumultuous journey from training in the U.S. Eighth Air Force during World War II to the moment when the B-17 bomber he was manning in the top turret, the Dottie J III, crash landed in a field outside Thiacourt, France during the second invasion on Schweinfurt, Germany and his survival as a prisoner of war.
Imprisoned in Stalag XVIIB in the village of Gneixendorf, Austria, Caporaso watched brutal German guards take hostile command of their perceived authority on life, slowly peeling away every layer of a man's dignity. Yet, only a prison camp full of ingenious engineers could find so many uses for the contents of a Red Cross parcel. In the spring of 1945 he survived a 300-mile Death March in the rain and snow on little to no food or water until he and fellow prisoners were rescued by Allied troops. Caporaso retired from the Air Force with the rank of Master Sargent, worked in the Chatham (N.J.) post office for 54 years and remains a member of the Chatham Fire Department.
The full-color 7" x 10" book is filled with images from his childhood in Chatham, New Jersey, training in Texas in the early 1940s, family snapshots and his recent tours on a restored B-17. From the Top Turret is available in paperback and Kindle versions on Amazon.
About Documented Legacy: Documented Legacy helps people and businesses record aspects of their personal history by documenting their experiences, values, beliefs, and charitable decisions through storytelling and the organization of archives and heirlooms. The company conducts audio and video interviews to produce as oral histories, celebrations, written life stories, ethical wills and memoirs. For more information or speaking engagements, visit http://www.documentedlegacy.com or call 609-468-2367.