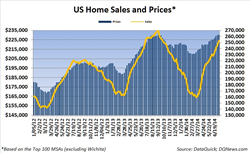 The rate on a a Jumbo 3-year loan is now sub 4%
Chicago, IL (PRWEB) July 13, 2014
On July 10th, DQnews.com reported their "National Home Sales Snapshot" which showed that weekly home sales are very close to surpassing those of last year. This news supported a statement from Peoples Home Equity on June 26th that weekly home sales may soon surprise "both the market and Fed Chair Janet Yellen by surpassing 2013's peak."
Weekly home sales grew 2.8% week over week while median home price remained unchanged for the 2nd consecutive week. This news is great for both home buyers and those employed in the housing market such as contractors and real estate brokers. Rising sales implies more Americans are able to purchase homes, and brokers/contractors are gaining more business. While median home prices have stagnated for the past 2 weeks, homeowners should note that prices are currently 4.5% higher than last year. Home sale are just -1.3% before this time in 2013, and Peoples Home Equity expects 2014's peak to reach new highs. One factor contributing to this year's possible upset of higher than expected home sales is that the winter proved so dismal, especially in the Midwest. Americans are now out making bids on listings before the next winter arrives. Meanwhile, mortgage rates have fallen since 2 months ago. MortgageNewsDaily.com's "Daily Mortgage Rates" page shows the rate on a 30-year fixed rate loan at 4.14% as of Friday, July 11th. The rate on a Jumbo 30-year loan is now sub 4% at 3.98%. Both loan types saw rates fall for 4 consecutive days this week from Tuesday to Friday.
The best case for home buyers right now is to see a continuation stagnant median home price growth and lower mortgage rates. Peoples Home Equity encourages prospective home buyers to prepare themselves by getting pre-approved for a mortgage. Having a pre-approved mortgage allows home buyers to filter their home search based on what they can afford/borrower from the lender. Given that home sales are increasing, it may not be long before home prices resume higher as well. Thus, now is the time to get approved for a home loan if serious about making a real estate purchase.
If in need of a mortgage pre-approval, contact Peoples Home Equity loan officer today at 262-563-4026.