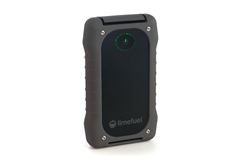 Boulder, CO (PRWEB) July 14, 2014
Limefuel introduced today the L150XR Rugged portable battery pack for sale to the public following the close of their wildly successful Kickstarter campaign in March of 2014. The Kickstarter community raised over $160,000 to help Limefuel bring this product from concept to reality.
The L150XR is designed to endure brutal conditions while delivering consistent power to any device that utilizes a USB charger. At 15,000mAh, the L150XR is capable of charging an iPhone 5 for over 10 full charges, or a Go-Pro Hero 3+ camera 12.5 times through use of either of its two 2.4A output ports. The battery sports auto-on/auto-off technology to preserve charge, which makes it ideal for emergency kits since it can store a charge for a year. It also supports pass-through charging so adventurers will never have to choose between charging their L150XR or their portable device when limited power sources are available.
The battery case is shock-protected and crush-proof, and the L150XR has successfully demonstrated the ability to survive drops to concrete from 15+ feet and the pressures involved in being run over by a truck. The IP66 certification Limefuel achieved when engineering this battery also ensures that when the lid is sealed, the L150XR is protected against all dust and grit while remaining waterproof against powerful water jets or complete submergence to moderate depths. For those who wish to live life to the fullest, the fragile nature of electronic devices can be a major headache. Limefuel's new Rugged series aims to provide consumers the peace of mind that comes with knowing they will have reliable power when they need it, wherever they may be. The Rugged will be available for general sale Wednesday, July 16, 2014. Customers interested in purchasing this product can do so via Amazon.com.
Limefuel was established in 2013 in Boulder, Colorado. The company produces cutting-edge external batteries for smartphones, tablets and other devices, maximizing battery capacity within the smallest possible form factors by pushing the boundaries of what current technology will allow. For more information, visit http://www.limefuel.com.