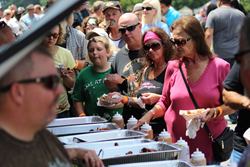 Raleigh, NC (PRWEB) July 15, 2014
Triangle residents sampled tasty Buffalo wings from 10 cooking teams during Ray Price Harley-Davidson's annual wing cook-off for charity this past Saturday. More than $3,400 was raised for the Duke Children's Miracle Network and All-Star Ride for Life. Participants donated at least $5 for all-you-can-eat Buffalo wings. The event was co-sponsored by GastroIntestinal Healthcare of Raleigh.
While feasting on wings, attendees stopped in next door to Ray Price Triumph to feast their eyes on history at "The Revolution: A Triumph Experience." This museum exhibit showcased the evolution of the British motorcycle from 1902 to 2014.
"This was our hottest charity event of the summer with the many different wing recipes enjoyed by more than 400 bikers and their families," said Kris Weiss, director of marketing and promotions at Ray Price Harley-Davidson. "We also had 39 participants donate blood to Rex Healthcare."
The Triumph Experience featured a museum style exhibit of vintage British motorcycles. Other activities included live music from Dead City Symphony, and a ladies-only Diva Bike Show. Strongwoman Juli Moody, "the human link daredevil," also entertained with her latest feats of strength holding back two motorcycles going 30 miles per hour in opposite directions.
Trophies were awarded for First, Second, Third Place and People's Choice winners in the wing cook-off. Winners included:
First Place: Pirates' B'arrgh-Be-Cue
Second Place: Big Show BBQ Cooking Team
Third Place: Freedom Biker Church
People's Choice: Big Belly's Cooking Team
About Ray Price Harley-Davidson
For more than 30 years, Ray Price Harley-Davidson in Raleigh, N.C. has served as the Southeast's premier motorcycle dealership. Staff has 950 years of combined Harley riding experience to provide award-winning customer service and education programs for beginners-to-expert riders. Best known as home to hall-of-fame motorcycle racing legend and Ray Price, the dealership actively supports area nonprofits and is responsible for the state's very first Iron Elite celebration of African-American bike culture. Ray Price also hosts the state's largest downtown motorcycle rally, Capital City Bikefest, which celebrates its 10th anniversary this September.
About Children's Miracle Network
The nonprofit Children's Miracle Network is the alliance of 170 premier children's hospitals in North America. Locally, the alliance raises funds for Duke Children's Hospital & Health Center. Every year, Children's Miracle Network Hospitals treat more than 17 million children with all types of illnesses, including cancer, heart and muscular diseases, birth defects, cerebral palsy and AIDS.