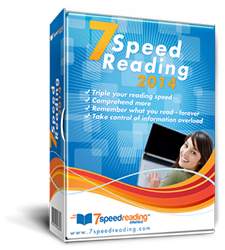 Reading fast not only saves time, it gives a priceless advantage to those who speed read: the advantage of knowledge.
New York City, NY (PRWEB) July 15, 2014
eReflect's popular speed reading blog now features a guest post by William Delgado, who shares his thoughts on the benefits of learning how to speed read with an effective speed reading program. As Delgado points out, speed reading software needs to be easy to use so that people of all ages and reading levels can use it to improve both their speed reading and their overall basic reading skills. Being able to access the program from anywhere also ensures the user can find the time and place most convenient to them in order to practice their speed reading skills. These are basic prerequisites for a good program, Delgado emphasizes.
However, as he continues, the most important feature of a great speed reading software is its capacity to help the user master speed reading in a way that's as effortless, fast, and interesting as possible.
Another parameter Delgado emphasizes in his guest blog on 7 Speed Reading™is a software's customizability for better learning outcomes. As he asserts, a quality speed reading program adapts to the user's learning style, rather than requiring the user make do with whatever rigid learning approach the program offers.
Another equally significant feature Delgado points out is how important progress tracking and reporting is. The user shouldn't be kept in the dark regarding their learning progress. The user needs to know, and deserves to know at any given time, how much progress they are making with their reading speed. Great speed reading programs cater to this need, offering advanced yet intuitive practice tracking tools for the learner. As he states, "The best speed reading software also has many tracking tools and reports that are useful and accurate. This provides proof of the credibility of the speed reading software."
Learning to speed read isn't as hard as many people believe. With the right speed reading program, anyone can improve their reading speed and other related skills, all of which can help them advance their career and move ahead at an interpersonal level as well. If a speed reading software system features all these tools and characteristics, then it is capable of helping anyone improve their knowledge.
Reading fast not only saves time, it gives a priceless advantage to those who speed read: the advantage of knowledge.
______
For more information about the benefits of using 7 Speed Reading, please visit the official website at http://www.7speedreading.com.
About 7 Speed Reading™:
7 Speed Reading is the only modern speed reading software that uses the latest technology to produce superior results. The software provides its users with a new way to master speed reading that guarantees three times the reading speed, along with improved memory and comprehension. The software is poised as the most comprehensive speed reading system anywhere. It contains seven learning strategies, fifteen software activities, video training, advanced tracking capabilities and many more exciting features.