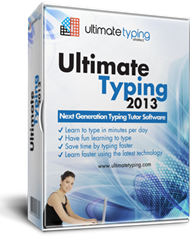 A school's typing class is often limited to 10-minute typing games, as most teachers prefer to focus on other IT skills.
New York City, NY (PRWEB) July 16, 2014
Ultimate Typing EDU is a typing software for schools designed by eReflect. The home version of Ultimate Typing™ is designed for anyone who wants to hone their typing speed and accuracy, and this new version adds typing tutorials specifically designed to be easily integrated into any classroom. With the features and technologies of Ultimate Typing™ and a series of added features and a focused keyboarding curriculum, Ultimate Typing™ EDU makes keyboarding for schools a fun, constructive experience for students.
A school's typing class is often limited to 10-minute typing games, as most teachers prefer to focus on other IT skills. eReflect is now offering a well-structured, results-driven solution for teachers who wish to integrate typing lessons in their curriculum but have neither the time nor the resources to develop comprehensive keyboarding courses.
eReflect believes that students equipped with essential life and technology skills have a better chance in excelling both at school and in their future careers. The company is dedicated to providing people with lifelong educational opportunities and sees skills such as typing as a timeless investment people can make in the present, and benefit from for many years to come. This is why the company created Ultimate Typing™ EDU, an educational solution for teaching students keyboarding that's effective and easy to implement.
The program is eReflect's most comprehensive typing tutor to date. It offers teachers an interface that is easy to set up and manage, and live online progress reporting for better student administration and monitoring. It's an easy way to improve students' touch typing skills since it offers plenty of fun activities and games that keep the whole class interested.
The program is 100% ad free so students and teachers don't need to worry about distractions compromising the learning outcome. What is more, the program has extensive scalability; no matter the size of the classroom or even the entire student body, each student's typing needs can be accommodated.
One of the highlighted features of this new system is the remote access it offers. Not only can schools offer well-designed typing lessons during class time, they can also give students access to the program from anywhere, at any time. Ultimate Typing™ EDU lets students practice when and from wherever they please. All these features and technologies combined serve a single purpose: to give students excellent typing skills so they are adequately prepared for the future.
*********
For more details on Ultimate Typing™ EDU please visit http://www.ultimatetyping.com/schools.
About Ultimate Typing™
Ultimate Typing™ software is designed specifically for the improvement of typing skills. Created by eReflect, a world leader in e-learning and self-development software, Ultimate Typing™ has been informed by the latest developments in the science of touch typing.
Since its creation in 2006 by Marc Slater, the company has already catered to over 112 countries all over the world, offering products with the latest cutting-edge technology, some of which are among the world's most recognized and awarded in the industry.