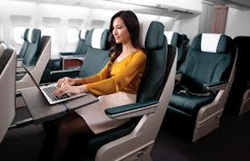 Hanoi, Vietnam (PRWEB) July 14, 2014
Vietnam-airline.org, a reliable booking online center, was established by the Smile Travel Vietnam agency in 2008. The website provides customers with both domestic and international flights operated by Vietnam Airlines. Next month, August 2014, Vietnam-airline.org is going to offer round-trip business class tickets only from 199 USD.
The promotional program will start on July 20th and end on August 20th 2014. This special offer will apply for 3 routes: Vietnam- Bangkok, Vietnam-Singapore and Vietnam- Kuala Lumpur. Accordingly, a round-trip business class ticket for the first route costs USD 199 and USD 299 for the route Vietnam- Singapore/ Kuala Lumpur. The discounted tickets do not include taxes, fees and charges. Rerouting or refunding is permitted with fee 20 USD. Furthermore, lucky travelers can get a visa approval letter free if they book airfare for a group of 6.
For further details, please call hotline: +84 988 832 041. The customer services are always available for help.
About Smile Travel Vietnam
Hanoi based Smile Travel is an online travel company specializing in tailor-made tours to Vietnam. With more than 6 year experience in travel industry, the company has been recognized as one of the most reputable companies in Hanoi, Vietnam by most international visitors using the company's services. Customers of Smile Travel Vietnam Company are always satisfied with the quick, secure and cheap services including visas, air tickets, hotel bookings and tours.