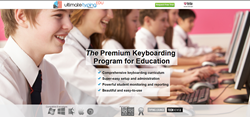 Teachers can make use of technology in many ways since it's a versatile and often inexpensive means to make learning more appealing to students.
New York City, NY (PRWEB) July 18, 2014
Teachers are creative and resourceful human beings who would do anything to promote their students' learning. eReflect conveys support to every teacher who leverages technology in the classroom to make learning more compelling, effective, and fun.
Susan Sommer shares her experience of implement technology in the classroom on the website 4teachers.org. She provides an excellent example of how technology promotes learning. This 3rd grade teacher allowed her students to practice their keyboarding skills with a word processing software called Type to Learn. The students had a 15-minute typing class 2 to 3 times each week to learn to touch type. Her initiative for keyboarding school classes paid off, since the end-of-year presentation the students prepared was more than usually successful, due in part to their improved keyboarding skills.
Just like Ms. Sommer, many other teachers are beginning to acknowledge the educational potential of technology. While some teachers were reluctant at first about tech-based educational tools, the increasing number of success stories from around the world testify to the fact that tech ed is, without a doubt, the future of learning.
Teachers can make use of technology in many ways since it's a versatile and often inexpensive means to make learning more appealing to students. Since much of the tech ed tools involve hands-on interaction, children are more eager to get engaged in the process. Teachers do not need big budgets to realize their tech ed visions, because the Internet provides resources that can make learning more high-tech instantly. From social media integration to free learning software, children can be quickly introduced to the many ways that technology can assist them with their learning.
eReflect, a champion of tech-based learning, encourages more teachers to integrate technology in their classrooms and see firsthand its power to transform the learning environment. These tools will help students become adept, proficient users of technology, which also prepares them for the challenging work environment of the future. Sommer's students, who learnt how to touch type, were given a valuable, timeless tech skill that will benefit them during their school years and beyond. eReflect hopes that more teachers will follow this example, and that many more children worldwide will benefit from the educational tools of the 21st century.
*********
For more details on Ultimate Typing™ EDU, Keyboarding Program For Schools, please visit http://www.ultimatetyping.com/schools.
About Ultimate Typing™
Ultimate Typing™ software is designed specifically for the improvement of typing skills. Created by eReflect, a world leader in e-learning and self-development software, Ultimate Typing™ has been informed by the latest developments in the science of touch typing.
Since its creation in 2006 by Marc Slater, the company has already catered to over 112 countries all over the world, offering products with the latest cutting-edge technology, some of which are among the world's most recognized and awarded in the industry.