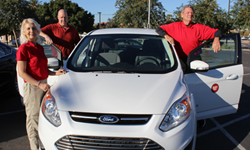 Our love affair with the car is over. People in cities like Phoenix are looking to live engaged, productive lives without being dependent on a car. RubyRide provides that Freedom.
Phoenix, AZ (PRWEB) July 15, 2014
Affordable and personalized transportation in low- and medium-density U.S. cities, starting with the Southwest, may soon become a reality with RubyRide. The subscription based service for regular use day-to-day transit is designed for those who are interested in either having fewer vehicles or using greener transportation as well as clients including, but not limited to traditional commuters and families, urbanites, students, retirees and workers of all ages. However, in order to provide their service to as many people as possible, the company needs to develop a proprietary system that manages large amounts of data and forecasts future demand.
To transform their vision into reality, RubyRide has launched a crowdfunding campaign on Fundable to expand their service area and develop a software platform that will allow them to schedule up to 50,000 trips per day. The 'short trip management system' with day-to-day logistics has been developed working with passengers and drivers to provide them a safe, reliable, intuitive experience. Passengers can schedule their trip using the company's mobile app or by calling, texting, sending an email, or attaching RubyRide to a meeting in Outlook. A simple tap on the app is all that it takes for those seeking to address their daily and regular car ride needs going to work, and getting to appointments, stores, restaurants and groceries.
Primarily geared as a solution for people who don't want a car or are unable to drive, flexibility in how often a user might need a car is the USP of this first-of-its-kind service that doesn't enforce a "pay per trip" model. Their business model is based on selling access to their transit network that travels door-to-door like a taxi service, but bills on a subscription basis, which costs less than owning a car. The subscription-based model with a simple, fixed and affordable monthly fee for unlimited rides provides instant access to a fleet of reliable and friendly drivers. Starting at $200 a month with no limitations on trips; they produce lower costs for customers by vastly increasing their efficiency with technology, compared to traditional taxi and limo services.
Speaking about what he envisioned this service to be, CEO and Founder of RubyRide, architect Jeff Ericson said, "Multiple stops, more destination drops, one-way trips, and diverse locations; we wanted to create a service that is the perfect replacement for needing your own car," adding, "I made the shift to the greener transportation business after realizing that Phoenix's sprawling region is inaccessible for anyone without access to a car."
For every 1 RubyRide car, 18 cars will be taken off the streets of Metro Phoenix, creating a more sustainable city and cultivating an active urban atmosphere by providing alternative forms of convenient transportation. For students downtown and in Tempe, a unique $1,500 semester-to-ride service will also be made available to the students of Arizona State University, allowing students at the nations' largest University to focus on college life without the liabilities of managing a car.
RubyRide is also committed to reducing the number of cars on the street in Metro Phoenix, thereby decreasing the number of acres devoted to parking lots. Integrating current and predicted demand, traffic and customers' special requests with their scheduling software are also in the pipeline. More information about RubyRide, their monthly subscriptions plans, specials and other details are available at http://www.rubyride.co.