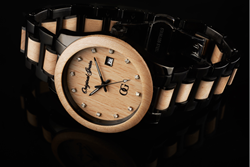 Original Grain wood watches are known for their unique design and originality.
Oceanside, CA (PRWEB) July 15, 2014
Original Grain, the premier maker of high quality, all-natural wood watches, is proud to launch their women's collection just in time for summer. Original Grain wood watches are known for their unique design and originality - made with a combination of quality wood and high grade stainless steel.
Equipped with a men's line since their launch in 2013, it was a step in the right direction for the Original Grain brand to include a collection for women. With a 38mm watch face, you'll find these slightly paired down from their men's design, sporting a date box and ultra-reliable 3-hand Japanese quartz movement.
Coming in 4 styles for women, including exotic Indian Rosewood and all-natural Maple Wood, these watches are sure to turn more than few heads this summer. "We couldn't be more excited to be launching our women's line this summer. Our goal was to maintain the simplicity of the design, but include features ladies can enjoy. The inset rhinestones give this watch some added flair, while the size of the face, keeps it substantial in design", says Founder Ryan Beltran.
Original Grain is making waves in the wood watch market, and continues to show their dedication to quality and innovative design. The launch of their women's line comes at the same time as their summer apparel release, which includes floral pocket tanks.
Starting out, Original Grain offered three styles: Indian Rosewood, Green Sandalwood and Maple (only for men). Now, they offer six styles for men and four styles for women. Be on the lookout, as Original Grain has BIG plans for the future, including a major collaboration that will use re-claimed wood in their watches.
For more information about Original Grain natural wood watches please visit http://www.originalgrain.com/.
About Original Grain
Emerging from the minds of three men in three different settings (Hong Kong, California, and hometown Eugene), Original Grain wood watches are the next generation of wood watches for the modern man and woman. At Original Grain we make high-quality, well-designed timepieces from all-natural wood and stainless steel. Style is one thing, originality is another - #stayoriginal.