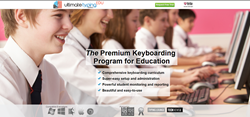 Teach typing for schools shouldn't be out of reach for all but private schools, and that each student deserves to learn how to touch type.
New York City, NY (PRWEB) July 20, 2014
eReflect encourages teachers and schools to integrate keyboarding programs in their curricula to adequately prepare students for the highly demanding 21st century job market. Ultimate Typing™ EDU is the latest proposition offered by eReflect to achieve this goal.
It's software that helps students master touch typing through lessons and games that have been designed by experts. It's a cloud-based software teachers can easily set up and manage, and eReflect reassures school administrators that unlike other systems, this typing program is affordable and resource-friendly.
Ultimate Typing™ EDU is a keyboarding program for schools designed to offer students the resources and knowledge they need to become accurate and fast typists. With Ultimate Typing™ EDU, eReflect hopes that more students will have the opportunity to become proficient touch typists, confident in their abilities and possessing this great marketable skill that will boost their employment prospects once they graduate.
Students can learn to type simply by logging in the program and into their account. The software offers step by step video training and guides the student throughout the learning process to ensure they develop first their typing accuracy, and then their typing speed.
eReflect reminds school principals and managers that Ultimate Typing™ EDU uses cloud technology which makes it more affordable and light in terms of bandwidth usage.
Because of its flexible scale, all schools can now incorporate this essential instruction in their classrooms. eReflect believes that programs that teach typing for schools shouldn't be out of reach for all but private schools, and that each student deserves to learn how to touch type through a rigorously designed program that accelerates the learning process and makes it fun at the same time.
eReflect has made Ultimate Typing™ EDU a fully intuitive program. The program makes it easy for teachers and supervisors to monitor and adjust the learning curves of their students to help make sure each student meets their targeted performance outcomes every single time.
For teachers who are worried that the program will be too complex, eReflect reassures people that learning to familiarize themselves with the program is a simple process, and that the program is easy to set up and manage. As eReflect explains, the program features an easy to follow set-up process and an intuitive, user-friendly interface for monitoring and reporting on student learning.
*********
For more details on Ultimate Typing™ EDU, Keyboarding Program For Schools, please visit http://www.ultimatetyping.com/schools.
About Ultimate Typing™
Ultimate Typing™ software is designed specifically for the improvement of typing skills. Created by eReflect, a world leader in e-learning and self-development software, Ultimate Typing™ has been informed by the latest developments in the science of touch typing.
Since its creation in 2006 by Marc Slater, the company has already catered to over 112 countries all over the world, offering products with the latest cutting-edge technology, some of which are among the world's most recognized and awarded in the industry.