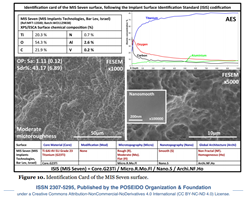 MIS can guarantee that our implant surfaces uphold the highest standards of surface quality with a 99.8-100% pure Titanium-oxide surface
(PRWEB) July 16, 2014
Long-term clinical success of dental implants is dependent on a number of critical factors including implant design, bone quality and quantity, surgical techniques and clinician's skills. However above and beyond implant materials and geometry, the topography and chemistry of the implant; surface treatment and surface quality, is just as important in achieving high success rates.
Improving Osseointegration: Numerous studies suggest a predictable and more rapid osseointegration of implants using surface treatments in a combination of sand-blasting and acid-etching. Osteoblast proliferation and differentiation depends on the micro and nanostructures on the surface of the implant that closely mimics the natural bone matrix. MIS implant surfaces most closely mimics the natural cancellous (spongy) bone configuration and has enhanced surface purity when tested against other major implant brands using SEM technology.
Managing Contaminants: The chemical composition of the implant surfaces can vary due to manufacturing finishings such as titanium machining, thermal treatment and cleaning and sterilization procedures. Surface contaminants, such as trace metals, ions, lubricants and detergents left over from machining and cleaning processes require the careful control of implant surfaces as a procedure in itself to ensure the quality of the implant.
MIS implants undergo routine stringent surface characterization and validation procedures using SEM (Scanning Electron Microscopy) and XPS (X-ray Photoelectron Spectroscopy) that verify low carbon percentage on the surface of the implant and low level of other contaminants.
Conclusions: Using surface characterization technology, MIS can guarantee that our implant surfaces uphold the highest standards of surface quality with a 99.8-100% pure Titanium-oxide surface, as well as the validation of full coverage by sand-blasting and acid-etching. These surface treatments help eliminate various surface contaminants while increasing the implant surface area, generating a hydrophilic surface with micro and nanostructures for optimum osseointegration. Refer to the complete scientific article News 37 - Characterizations of MIS Implant Surface on our website: http://www.mis-implants.com/Scientific/ResearchMaterials.aspx.
Independent Research: These conclusions are supported by an independent research article published in The POSEIDO Journal: Periodontology, Oral Surgery, Esthetic and Implant Dentistry - 2014 (Volume 2): "Identification card and codification of the chemical and morphological characteristics of 62 dental implant surfaces".
Identification card of the MIS SEVEN implant, titanium grade 5 ELI, grade 23:
"No pollution or chemical modification was detected."
Only 3 out of the 62 implants tested evidenced these results, the MIS SEVEN coming out on top.
To access the complete article: http://www.poseido.info/publication/volume-2-2014/poseido-20142137-55-dohan.pdf.