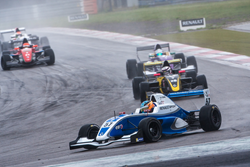 Unfortunately it was one of those weekends where nothing went to plan
(PRWEB UK) 14 July 2014
Eurocup Formula Renault 2.0 wildcard entry Raoul Owens saw realistic hopes of a potential top 10 points challenge at the Nurburgring on Sunday, 13th July, unfortunately ruined after falling victim to opening lap contact in the second of the weekend's two races at the German track.
Taking part in the fourth event of the Eurocup season to gain essential Nurburgring track knowledge, ahead of his return to the venue in late September with the Formula Renault 2.0 Northern European Cup, the 19-year-old British racer made impressive strides from the outset.
Tenaciously battling back into a midfield finish of 17th place during a rain-hit first race on Saturday, 12th July, having slipped to the tail of the field early on, Raoul qualified a competitive 12th fastest for the second encounter and certainly had the pace to fight for his maiden Eurocup points. Rear wing damage, though, following contact from an errant rival, put paid to any chance of a top 10 push.
"Unfortunately it was one of those weekends where nothing went to plan," said the Pembury-born driver, "The main thing about racing in Eurocup, though, was to get some preparation for when we come back to the Nurburgring with the NEC series later in the year. We definitely found some pointers with set-up and our pace in the wet was really good, so that's all positive."
Beginning Saturday's wet and misty race from 21st on the grid, having lapped 11th fastest in his group's qualifying session, Raoul didn't want to take any risks early on with vision at a premium and so dropped back to 27th position before beginning his resurgence through the order.
Mounting an impressive drive, he gained no fewer than 10 places before the chequered flag fell on lap 13. Doing well to climb into the top 20 by mid-distance, he steered his Mark Burdett Motorsport car into 18th position by the start of lap 10 and took 17th place with a couple of laps to run.
Improving his speed throughout, Raoul posted his best lap of the contest on the final tour with a time of 2m12.177 seconds (average 140.2 km/h) which was a match for top six pace. At the chequered flag, he was only seven seconds away from the points-paying top 10.
"Race one was soaking wet and really misty at the start, I couldn't see a thing from where we were on the grid so I wasn't prepared to take any risks," reflected the Bright Spark Ventures-supported driver, "I dropped back initially but when I got going we were really quick, putting all of our sectors together I was as quick as the leader. We definitely had the pace."
Delivering a marked improvement in the rain-affected second qualifying session on Sunday morning, Raoul lapped sixth quickest in his session but the second qualifying group was ultimately the faster of the two – meaning the Briton would begin round eight from 12th position on the grid.
Aiming for a clean getaway with his sights set on a top 10 bid, hopes of a points challenge went awry at Turn Four when his car was tagged heavily from behind. Pitched into a spin facing the oncoming traffic, with cars darting to each side in avoidance, the contact also wrecked his rear wing.
After making it back to the pits, no sooner had the British racer rejoined the track than the skies opened and increasingly heavy rain started to fall. With nothing to lose after the early incident, Raoul gambled on a second pit visit to switch to wet-weather rubber. Within mere moments of threading back into the race, though, the rain stopped and the track surface dried!
Leading to his third pit-stop in quick succession, Raoul changed back to slick Michelin tyres and ultimately finished two laps down on the leaders in 26th position. Pace-wise, his potential was clear to see with a best lap of 1m58.403 seconds (average 156.5 km/h) on his final tour – just 0.4 seconds shy of the pace delivered by second placed finisher Charles LeClerc.
"Qualifying for race two should have been even better," explained Raoul, "I didn't see the chequered flag for the end of the session so I pushed on for my last lap and actually set the fastest time in my group. It didn't count, obviously, so it was a bit annoying to miss out on the front row.
"My start was good, I was in about 10th place, but then out of Turn Four I turned right and got a huge hit from behind and then just kept getting hit and was turned round. About 20 cars were heading for me, which wasn't the nicest feeling, but we got away with it although the rear wing was broken. The gambles we took after that with the tyre changes just didn't work out unfortunately."
Raoul will resume his main championship season in Formula Renault 2.0 NEC just a fortnight from now when the fourth race meeting of the campaign takes place at Spa-Francorchamps in Belgium on Friday, 25th July, and Saturday, 26th July.
ENDS
Note to editors: Copyright free images of Raoul Owens attached for editorial use; please credit Insight F1 Motorsport Report where used.
Website: http://www.raoulowens.com
Facebook: http://www.facebook.com/RaoulOwensRacing
Twitter: @raoul_owens
Media Contact:
Marc Orme
Tel: +44 (0)7920 886985
Email: marc(at)marc-orme(dot)co.uk / marcorme1(at)aol(dot)com