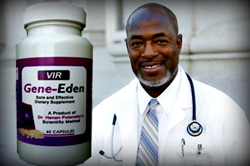 'A reactivation of VZV and an outbreak of shingles can be bad enough without having to worry about the possibility of stroke. That's why we recommend helping the immune system target the latent varicella zoster virus.' - Mike Evans, polyDNA
Rochester, NY (PRWEB) July 15, 2014
When the varicella zoster virus (VZV) reactivates and attacks the eye, it causes a condition called herpes zoster ophthalmicus (shingles in the eye). A new study found that when VZV attacks the eye, it increases the risk of stroke. This is significant since "Herpes zoster ophthalmicus represents approximately 10 to 25 percent of all cases of herpes zoster." (See American Family Physician, from November 2002) (2) Click to learn more about latent viruses.
polyDNA recommends that people infected with VZV take Novirin or Gene-Eden-VIR against the latent form of the virus.
The formula of these natural antiviral products was tested by Hanan Polansky and Edan Itzkovitz from the CBCD in two clinical studies that followed FDA guidelines. The studies showed that the Novirin and Gene-Eden-VIR formula is effective against latent viruses. The clinical studies were published in the peer reviewed, medical journal Pharmacology & Pharmacy, the first, in a special edition on Advances in Antiviral Drugs. Study authors wrote that, "individuals infected with a latent virus … reported a safe decrease in their symptoms following treatment with Gene-Eden-VIR." (3) The study authors also wrote that, "We observed a statistically significant decrease in the severity, duration, and frequency of symptoms." (3) In addition, this natural antiviral was recently proven to reduce mental and physical fatigue in a post-marketing clinical study that followed FDA guidelines.
Both products can be ordered online on the Novirin and Gene-Eden-VIR websites.
Novirin and Gene-Eden-VIR are natural antiviral dietary supplements. Their formula contains five natural ingredients: Selenium, Camellia Sinesis Extract, Quercetin, Cinnamomum Extract, and Licorice Extract. The first ingredient is a trace element, and the other four are plant extracts. Each ingredient and its dose was chosen through a scientific approach. Scientists at polyDNA, the company that invented and patented the formula, scanned thousands of scientific and medical papers published in various medical and scientific journals, and identified the safest and most effective natural ingredients against latent viruses. To date, Novirin and Gene-Eden-VIR are the only natural antiviral products on the market with published clinical studies that support their claims.
How do shingles in the eye develop?
"Like many viruses, the herpes simplex 1 and varicella-zoster viruses are present in most adults. The viruses in the herpes family usually live around the nerve fibers in humans without ever causing a problem. Occasionally, the viruses will start to multiply, or they will move from one area of the body to another, and that is when herpetic disease breaks out. This often happens when the immune system of the body is weakened by some other health problem." (See WebMD, last reviewed on May 21, 2012) (4)
People with shingles in the eye usually have very painful symptoms, which include "pain in and around only one eye, redness, rash, or sores on the eyelids and around the eyes, especially on the forehead. Sometimes the rash breaks out on the tip of the nose, (and there can be) redness of the eye, swelling and cloudiness of the cornea. (4)
"A reactivation of VZV and an outbreak of shingles can be bad enough without having to worry about the possibility of stroke. That's why we recommend helping the immune system target the latent varicella zoster virus." - Mike Evans, polyDNA
In light of the above information, polyDNA recommends that individuals infected with varicella zoster virus (VZV) take Novirin or Gene-Eden-VIR.
Click to read more about Novirin and latent viruses, and Gene-Eden-VIR and latent viruses.
All orders of Gene-Eden-VIR are completely confidential, and no information is shared or sold to any third party. Privacy is assured.
Reference:
(1) Grose C1, Adams HP. Reassessing the link between herpes zoster ophthalmicus and stroke. Expert Rev Anti Infect Ther. 2014 May;12(5):527-30.
(2) Saad, S. Ta, C. Evaluation and Management of Herpes Zoster Ophthalmicus Am Fam Physician. 2002 Nov 1;66(9):1723-1730.
(3) Polansky H, Itzkovitz E. Gene-Eden-VIR Is Antiviral: Results of a Post Marketing Clinical Study. Pharmacology & Pharmacy, 2013, 4, 1-8 http://dx.doi.org/10.4236/pp.2013.46A001
(4) WebMD - Genital Herpes Health Center - Herpes and the Eye
polyDNA is a biotechnology company that develops dietary supplements using the unique scientific method developed by Dr. Hanan Polansky, which is based on Computer Intuition.
In addition to his unique scientific method, Dr. Polansky published the highly acclaimed scientific discovery, called Microcompetition with Foreign DNA. The discovery explains how foreign DNA fragments, and specifically, DNA of latent viruses, cause most major diseases.
About:
polyDNA developed Gene-Eden-VIR , an antiviral natural remedy that helps the immune system kill latent viruses.