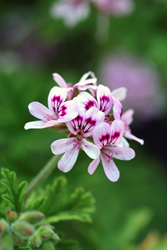 'Our customers swear by this Mosquito Plant and we sell out very quickly in our home stores,' says Jim Kuehnle, Owner and Operator of Clover's Home and Garden. 'I decided to offer it to our online customers and it's by far our most popular plant.'
Chicago, IL (PRWEB) July 16, 2014
Just in time for peak mosquito season, Clover's Home and Garden is now offering the hard-to-find Mosquito Plant. Already sold out in their Chicago stores, stock is still available through their online listings.
Large portions of the U.S. this summer have seen above-average rainfall and as flood waters recede, standing pools of stagnant water are left behind as prime mosquito breeding ground. Combined with summer heat, an explosion in the mosquito population is expected for the remainder of the 2014 summer. Beyond the itchy bite, mosquitoes are worrisome as they carry and transmit serious diseases including West Nile Virus, La Crosse Encephalitis Virus, and the newly-detected Chikungunya, all of which have debilitating symptoms and can be fatal. Additionally, mosquitoes can transmit canine heartworm, malaria, and yellow fever.
Just a few simple steps can help keep mosquitoes away from patios, decks, and play areas. Eliminate standing water in bird baths, rain-filled buckets, or water trapped in low-lying areas. In the evening, dress in long sleeves, long pants, and avoid using strong-scented perfumes or shampoos. For season-long coverage, plant mosquito-repelling plants such as the Mosquito Plant (also known as Citronella Geranium.) This easy-to-grow plant thrives as a perennial in Zones 10 and 11 but also does well as an annual in all other U.S. Zones. With ferny, full leaves and a late-season lavender-pink blossom, this plant makes a lovely border planting or addition to potted containers and hanging baskets. The leaves give off a lemony-citrus aroma which is repellent to mosquitoes and other biting insects. Plant liberally around all outdoor living areas.
"It's been such a bad mosquito year and the great thing about these plants is they only get bigger as the summer goes on. They're also a great way to battle the bug without using chemicals," says Jim Kuehnle of Clover's Home and Garden. "We still have plants selling online but they're going fast!"
Mosquitoes live and breed all the way through the first frost so a healthy, mosquito-repellent garden is a good option for protecting family and pets. While commercially-sold foggers and sprays will kill the bug, they also can result in unwanted pesticide exposure. The Mosquito Plant is a safe, all-natural alternative to chemicals and can provide a first-line of defense in often-used outside areas.
For more information on Clover's Mosquito Plant, visit http://www.mymosquitoplants.com.
About Clover's Home and Garden
In 1957, Robert Kuehnle, Sr., began selling bedding plants at his neighborhood grocery store on the south side of Chicago. Now run by his grandson, Jim Kuehnle, Clover's operates fifteen stores throughout the Chicagoland area, in addition to an online store selling hard-to-find and unique garden plants. They have established a reputation for unsurpassed excellence in plant production and customer service. Focused on promoting home gardening, Clover's searches out the highest quality plants and gardening products.