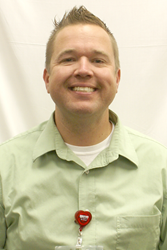 Lima, Ohio (PRWEB) July 16, 2014
Range Kleen Mfg. is happy to announce that effective July 1, Matt Berney will be assuming the Director of Sales position. Matt has been with the company for almost 15 years. He has shown a great desire to learn more about growing his value to the company and continues to show passion for success.
Matt started out in the Information Technology department in July of 1999. Matt exudes great energy, stellar work ethic and continues to achieve company goals with a new and fresh perspective. From Information Systems he went into the Operations Department as Director of Operations and quickly made a name for himself internally by creating Standard Operating Procedures that yielded results and a great attention to details and execution. He focused and led Operations to a lean manufacturing process and way of thinking in day to day business operations. Matt also spearheaded initiatives going Green. A few of the major going green initiatives were replacing the lighting throughout the company to make more efficient use and reduce energy usage; the other initiative, Matt worked closely with our Shipping Department and Freight companies to focus on reducing carbon footprints and reduce the usage of resources.
For the past 10 years, Matt has been working with Sales in various roles at Trade Shows. Matt has also been known for his role as the Range Kleen Pizza Man at the International Housewares Association Show and has been featured in the past in HFN and ESPN publications. Matt has become more involved with client visits and new product and sales related projects that were designed to give him a more robust education on the other areas of the company. More intensive successive planning began two years ago with his involvement in client specific teams overseeing promotional and inline sales strategy and execution. The time is now to launch him into Sales as a new Leader ready to bring his mix of competitive fires, abilities, willingness to learn and the integrity to connect with people and help us succeed.
About Range Kleen Mfg., Inc.
Range Kleen Manufacturing, Inc. is a Lima, OH based company manufacturing household products sold to major retail chains globally and has been taking care of the customer (TCOTC) since 1971. Its product divisions include: Original Equipment Manufacturing Quality (OEM) replacement drip pans for ranges & stoves; Non-stick Metal Bakeware; Kitchen Decorative products specializing in exclusive licensed designs; Storage, Organization, insulated food and beverage bottles and household cleaning supplies. Range Kleen introduced their own line of cookware- Stainless Steel and Enameled Cast Iron as well as pot racks in 2007. Effective December 21, 2009, Range Kleen Manufacturing was pleased to announce the partnership with Berndes Cookware USA and has taken the lead of all sales, marketing and shipping of Berndes Cookware USA from their International Headquarters in Lima, Ohio.