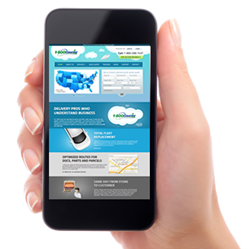 Atlanta, GA (PRWEB) July 15, 2014
1-800 Courier, a recognized leader in same-day delivery and transportation services, announces GPS tracking for its same-day courier services. The announcement comes as the Philadelphia courier expands its current client base by offering value-added courier technology services and seeks to increase its sales growth in major US cities. 1-800 Courier is a superior, one-stop courier of messenger and distribution services nationwide.
The GPS tracking system is used by dispatchers for real-time tracking via droid technology. Drivers have a droid communications device linked to GPS tracking, which allows 1-800 Courier to locate their driver fleet. This is beneficial for providing estimated times of pick up and delivery. It also creates the ability to re-route drivers or perform driver package transfers if a customer requests any last-minute location adjustments.
With GPS tracking, 1-800 Courier is able to create delivery efficiency. Consolidating package deliveries involves immediate communication with drivers for new courier service requests within their the general radius of their physical location. The courier is able to use GPS to notify drivers resulting in service agility and faster deliveries. Customers will also enjoy greater savings for their same-day orders.
1-800 Courier's GPS Tracking capabilities ensure its clients a superior courier service experience, as well as technology-equipped dispatching resulting in driver management and on-time deliveries. The system affirms the same-day courier, using the latest in courier technology, is capable of meeting various companies' same-day delivery needs.
1-800 Courier is a leading same-day courier service for distribution and freight services nationwide. From small packages to palletized freight, 1-800 Courier delivers fast! With superior customer care, courier expertise and modern courier technology, 1-800 Courier is able to provide optimal logistic courier solutions. Based in Atlanta, Georgia, 1-800 Courier services a growing list of over 1,500 clients, including Fortune 500 companies throughout the US.