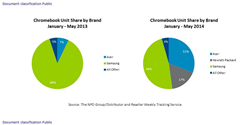 Building on last year's surprising strength, Chrome's unit strength ahead of this year's education buying season shows how it has become a legitimate third platform alongside Windows and Mac OS X and iOS
Port Washington, New York (PRWEB) July 15, 2014
Since the start of the year (January – May), Chromebook sales within the U.S. Commercial Channel increased 250 percent year-over-year and accounted for 35 percent of all channel notebooks sales. According to The NPD Group Distributor and Reseller Weekly Tracking Services, total notebook sales through the U.S. Commercial Channel increased 36 percent, desktop sales jumped 24 percent, and overall PC client volume rose by 1 million units so far this year. Windows notebook sales were flat and Macbook sales increased more than 20 percent.
Chromebook volume has strengthened heading into the important education buying season. For the three weeks ending June 7, Chromebook sales made up more than 40 percent of Commercial Channel notebook sales, a significant bump from the 35 percent year-to-date.
"Building on last year's surprising strength, Chrome's unit strength ahead of this year's education buying season shows how it has become a legitimate third platform alongside Windows and Mac OS X and iOS," said Stephen Baker, vice president of industry analysis, The NPD Group. "The next test for Chrome will clearly be the most difficult, as both Apple and Microsoft get more aggressive in pricing and deal making over the next few months. By the end of the third quarter we will have a much clearer picture of the long-term impact Chromebooks will have in the commercial channel."
Chromebooks haven't been the only client device delivering strong sales in 2014. Commercial channel Windows desktop sales through the first five months of the year increased 25 percent, punctuating a stretch of 16 consecutive months of unit growth in the commercial desktop market. Windows desktop demand has accelerated in 2014, with unit sales increasing more than 30 percent in four of the first five months of the year fueled by the end of XP support and the ongoing replacement cycle in business client devices. In fact, Windows desktop sales volume actually exceeded Windows notebooks in the first five months of 2014.
"The commercial channel for client devices has been undergoing considerable change over the last few years," said Baker. "The advent of tablets and Chromebooks, and the introduction of Windows 8 have all combined to make the market much more volatile than it has been in the past. But the bottom line is that despite reports to the contrary the market for desktops and notebooks sold through the channel in the U.S. has never been better."
About The NPD Group, Inc.
The NPD Group provides global information and advisory services to drive better business decisions. By combining unique data assets with unmatched industry expertise, we help our clients track their markets, understand consumers, and drive profitable growth. Sectors covered include automotive, beauty, consumer electronics, entertainment, fashion, food / foodservice, home, luxury, mobile, office supplies, sports, technology, toys, and video games. For more information, visit http://www.npd.com and npdgroupblog.com. Follow us on Twitter: @npdcommtech @npdtech and @npdgroup.