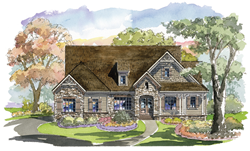 Clover, South Carolina (PRWEB) July 14, 2014
Arthur Rutenberg Homes is opening a new fully furnished and professionally decorated model home built by Paragon Homes of Charlotte, LLC., an independent franchisee of Arthur Rutenberg Homes. The Berkeley is Arthur Rutenberg Home's newest model home in South Carolina and is located in Clover's River Oaks community.
The model home illustrates what today's buyers demand in luxury home building; inspired design combined with function and value. This beautiful two story home features a grand entry displaying a formal dining area with incredible ceiling detail and an open flow to the main living area, master suite and covered porch. The open spaces of this 3,691 sq. ft., 3 Bedroom, 3.5 Bath with Bonus Room home create a relaxing environment, enhanced throughout with stylish details that make this home one of a kind.
The inviting master suite is accented with a tray ceiling, expansive garden tub and detailed tile artistry in the separate shower retreat. The Berkeley is equipped with a walk-in pantry, large granite island, perfect for food preparation as well as a natural gathering place for family and friends. The rear porch living area has a built-in grill and cooking area as well as a flagstone gathering spot perfect for pleasant conversation around the fire.
Located at 560 May Green Drive, in Clover, SC, the Berkeley model home is situated in River Oaks, a luxurious community with tree lined streets that welcome families home while shady walking trails offer water views of beautiful Lake Wylie.
The model home is open daily Monday – Saturday, 10am – 6pm, and Sundays noon-6pm.
Learn more about this model and other Arthur Rutenberg Homes near Clover, SC. Call Mark Wuerthele at (803)-831-1550.
See custom home plans for your area.
About Arthur Rutenberg Homes and Paragon Homes of Charlotte, Inc.
Paragon Homes of Charlotte, Inc.
Charlotte Luxury Custom Home Builder
"A passion for customizing and building homes our customers will appreciate and enjoy drives everything we do at Paragon Homes of Charlotte."
Mitch Genda isn't content simply building homes, instead he is driven to deliver the finest custom homebuilding experience possible, one home at a time. Merging vast industry experience with the legendary home designs and resources of Arthur Rutenberg Homes allows Paragon Homes of Charlotte to deliver customization, craftsmanship, service and value at an unparalleled level.
Paragon Homes of Charlotte, Inc., is an independently owned and operated franchise of Arthur Rutenberg Homes and is recognized as the leader in custom homes throughout South Charlotte; from Ft. Mill, SC to Mint Hill in NC. In order to deliver customer service at an exceptional level we rarely build north of Uptown. We like the south side and simply cannot build everywhere.
As an award-winning builder we believe there are several characteristics that are important today more than ever: financial stability, competitive pricing, exceptional product design, reliable trade partners and contractors, excellent customer service and a great warranty program, to name a few. We also know that delivering value is more than just a matter of price. Value is what our homeowner's investment delivers into the future.
Mitch Genda's passion for homes and architecture is only surpassed by his ability to put customers at ease with his gentle personality, calm confidence and extraordinary abilities. He excels at working with people, including subcontractors, employees, industry peers, and most importantly customers. Mitch spent 18 years honing his skills with a single leading homebuilder, this is a testament to his loyalty and dedication. He's simply the type of builder you want working for you.
About Arthur Rutenberg Homes
Arthur Rutenberg has been a respected name in Florida homebuilding since 1953, when he built his first home upon the four "cornerstones" that would make him legendary: design, craftsmanship, service and responsibility. Today, Arthur Rutenberg Homes, Inc. is one of the largest networks of independently owned and operated homebuilding companies in the nation, with franchised homebuilders throughout Florida, North Carolina, South Carolina, Ohio and Tennessee. For further information, contact Erik Cocks at 727-536-5900.